Purple Poppy Collection

THE PURPLE POPPY
The Purple Poppy honours all animals – great and small – who have served alongside our military. Every sale supports the Australian War Animals Memorial Organisation.
BrandNet is pleased to announce the 2020 donation to Australian War Animals Memorial Organisation of $5,695.76.
This donation was made possible by customers who purchased Purple Poppy products in 2020. 5% of the sale of these products are donated to support the organisations supporting our service animals.
See more at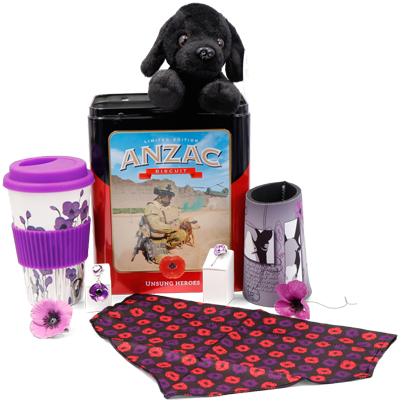 Purple Poppy Puppy Pack
Doggles On!
Featuring an imprint of 'Aussie' along with his handler, Sapper Shaun Ward in the Baluchi Valley, Afghanistan 2008, this classic ANZAC Biscuit Tin is jam-packed with an array of some of the popular Purple Poppy products including a Purple Poppy Reusable Mug, Purple Poppy Lapel Pin, Purple Poppy Drink Cooler, Purple Poppy Material Badge, Purple Poppy Collar Charm, Purple Donation Poppy Wire/Stem, a Remember Their Service Purple Poppy Pet Bandana, and a Purple Poppy Dog Plushie.
Sorry, biscuits not included.
$69.00. Hurry! Limited stock available
ORDER NOW
A Cuddle to Remember
Super cute and cuddly, each is adorned with an embroidered purple poppy badge. RRP: $15.00 each
Australian Light Horse Collection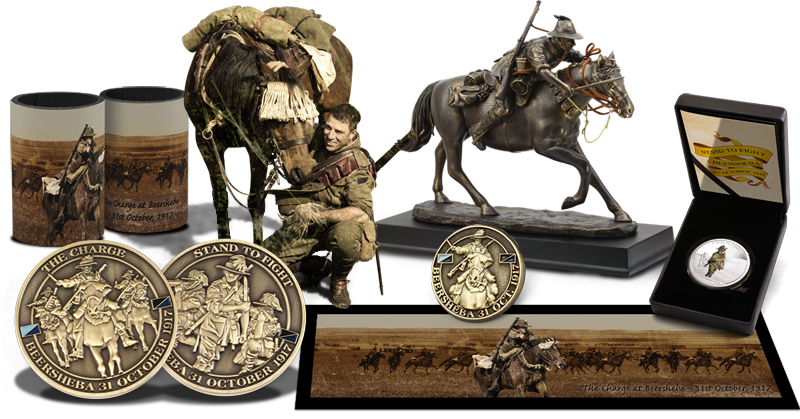 Exquisite figurines, medallions and more commemorating Beersheba and the Australian Light Horse's famous Waler mounts. Superb detail.
View the collection