Poppy Mpressions Where The Poppies Grow
Poppy Mpressions Collection
Where The Poppies Grow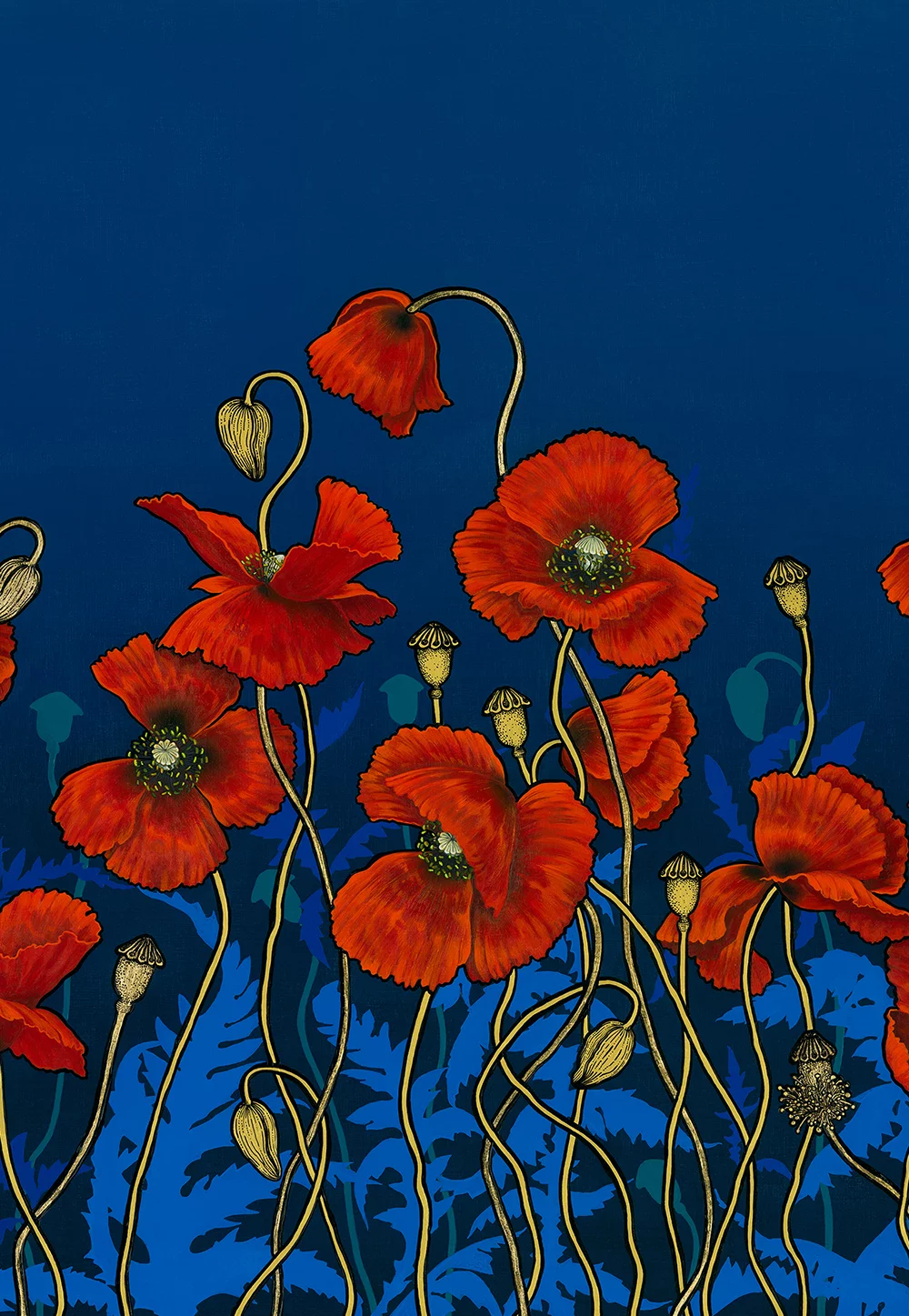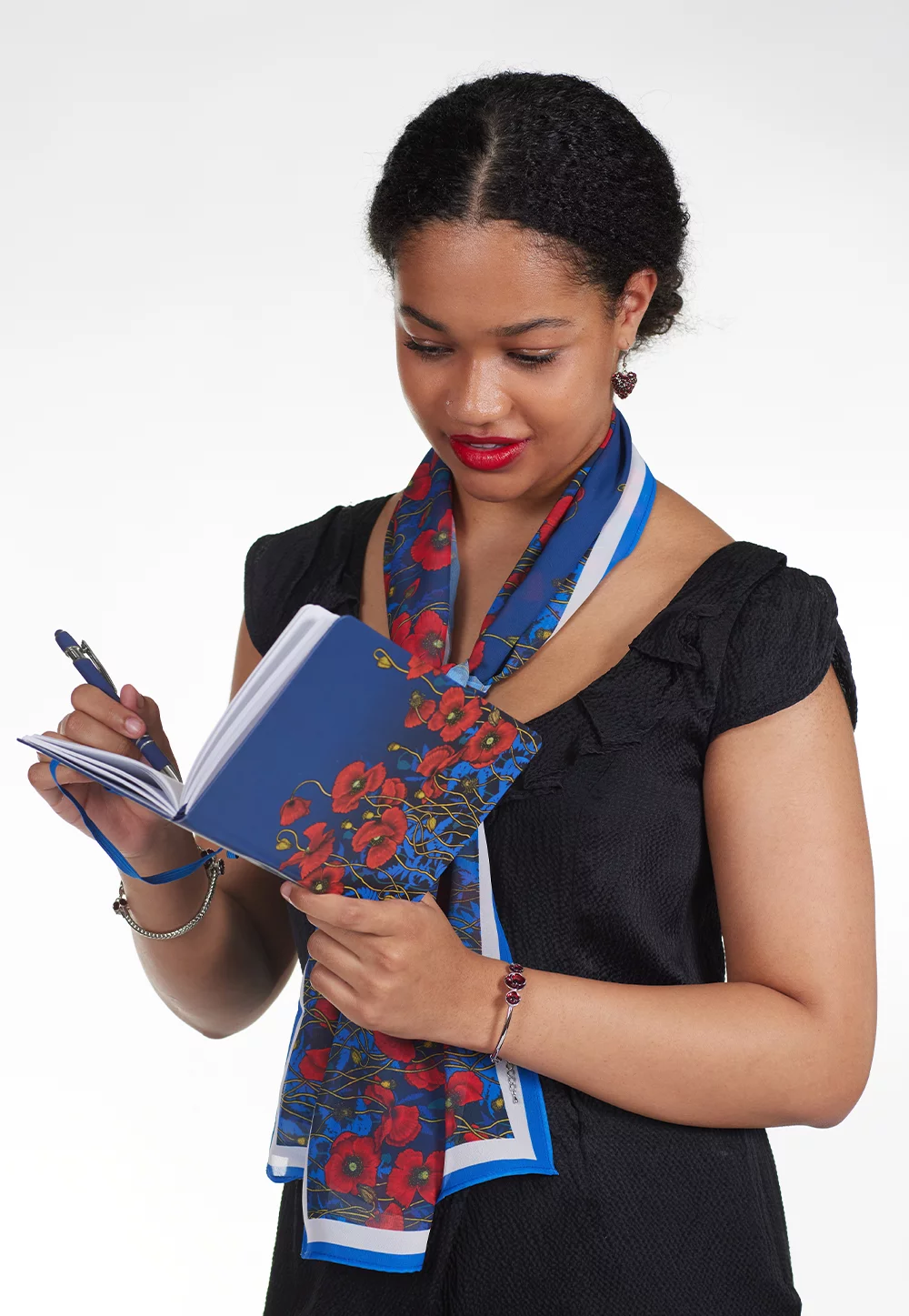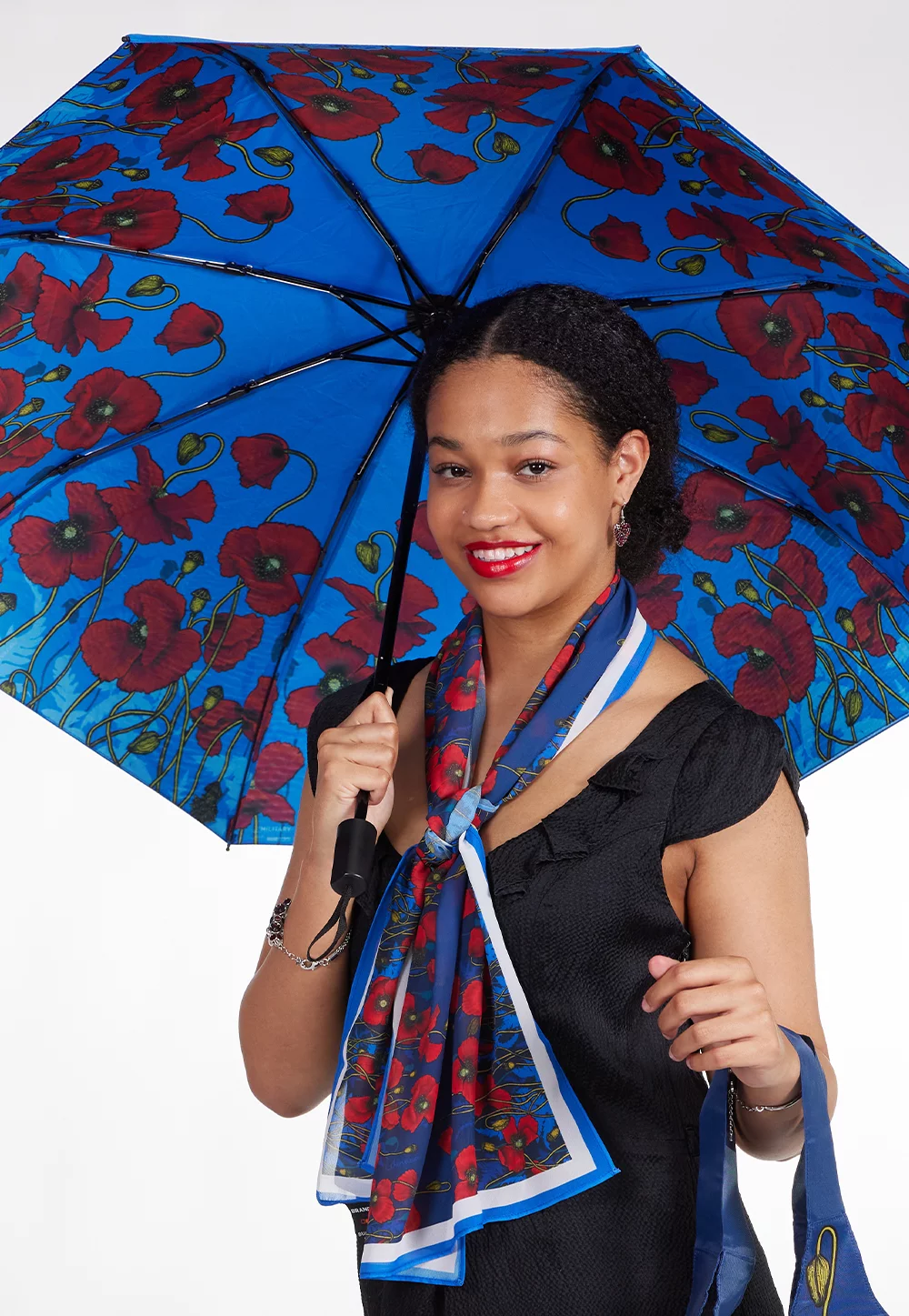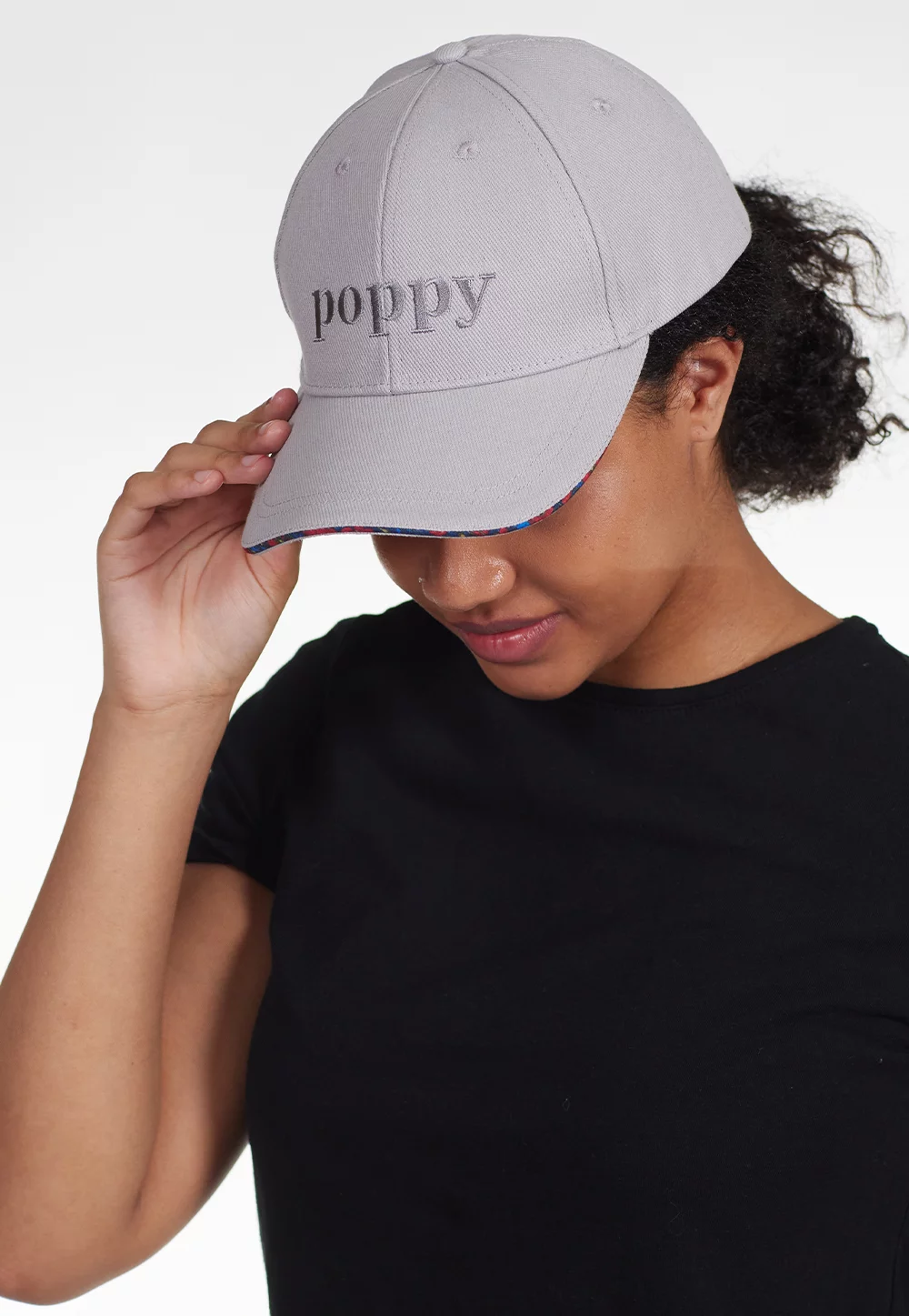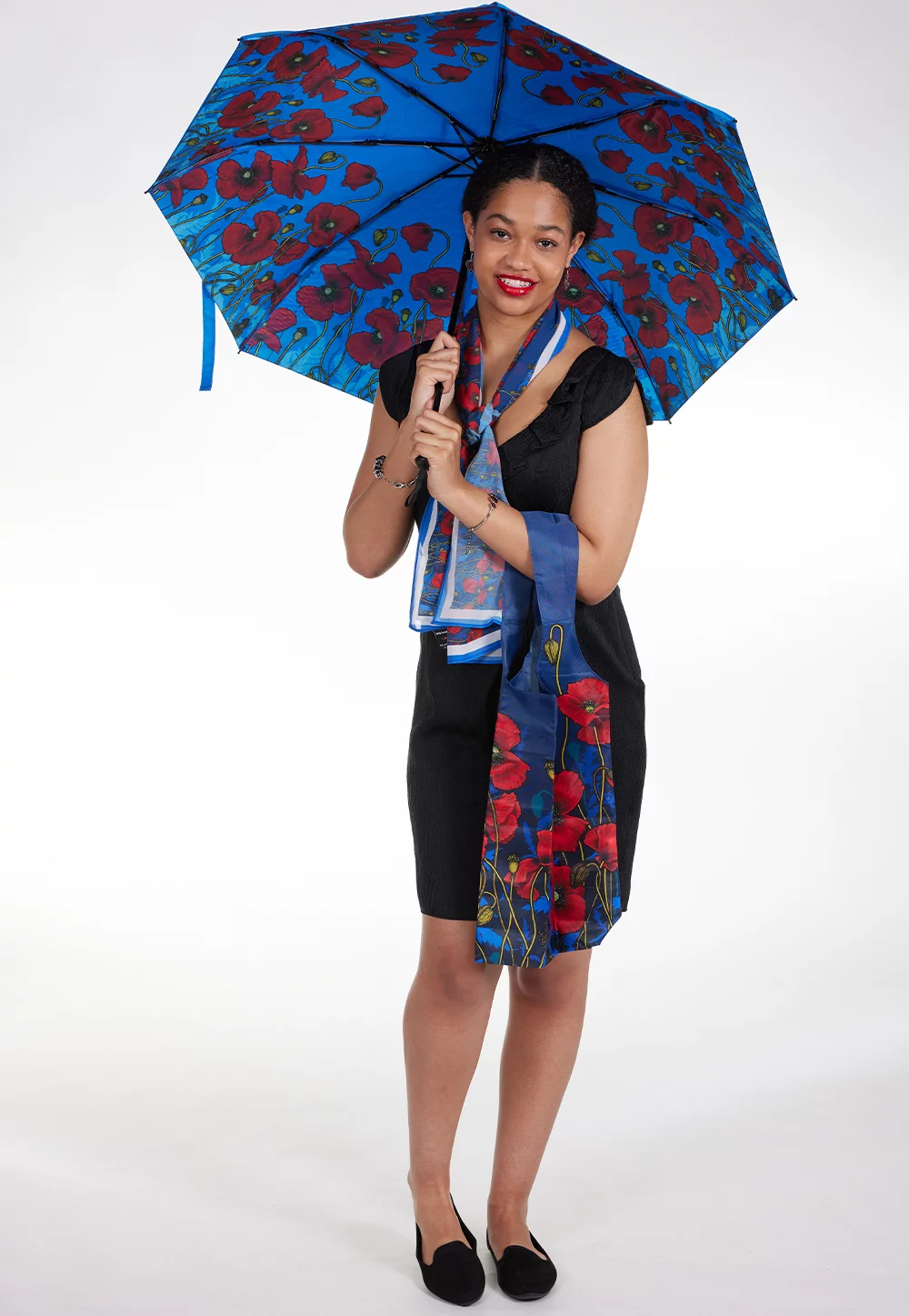 The latest in the Poppy Mpressions line, this sensational collection features the vibrant artwork
"Where the Poppies Grow" by emerging Australian artist Adriana Seserko.
WHERE THE POPPIES GROW POEM

There is a tale often told,
of a place where the poppies do grow;
where boys and men fought courageously to defend, country and home.
Here the fields blaze and glow,
underneath the suns ever watchful eye,
and what a sight it is to behold,
a scarlet sea of poppies that ripple and sway, like ocean waves in the gentle breeze.
Peaceful is the place where the poppies grow,
though once it was not so.
Long ago, soldiers cried, rallied, as their fallen brothers moaned.
The veiled silence palpable, a grim testimony of the dead,
A dirge whispered on the breath and sigh of the wind,
yet scarcely caught to the deafening roar of warfare.
You may hardly believe it so now, with the birdsong chirped so sweet,
yet how awful was the bellow of gunfire, the explosions that boomed
like thunder and lightning on a stormy summer eve.
It may be difficult to imagine the horror, for those who have only known peace,
to live daily in uncertainty and in fear of ones life,
to be bruised body and soul by atrocities witnessed and experienced.
Yet Spirit was not abandoned, when it could have easily been crushed,
determination and great bravery prevailed in men,
peace and freedom their lasting gift to all of us.
Too many lives were sacrificed, lost to the place where the poppies grow,
fathers and sons, brothers and uncles, lovers and dear friends,
their crimson life blood staining the battle ravaged earth in shades of red.
Destruction, loss, and despair time nursed, as only time could do, till all suffering waned,
and peace again governed in a world remade anew.
At this place an army still stands, though only the perceptive can truly see it,
for not a regiment of men can be found there but only a legion of proud poppies.
Forevermore the poppies keep vigil, igniting the flames of remembrance,
and guard the place where now they grow in point of the lost and fallen.
Together, we will remember them, now and evermore.
ABOUT THE ARTWORK

My favourite flower without hesitation is the humble poppy. Fragile in appearance yet robust in nature, the poppy delights. The poppy's silken to near translucent petals rendered in a myriad of hues, its long sinuous stems, supple forked green leaves, and striking seed pods make for a visually spectacular plant. The poppy grown en masse simply put, is breathtaking. It is little wonder then that the poppy is cherished by so many as a symbol and as a beautiful gift from nature. I was fascinated to learn of the Poppy's significance to our ancient forebears, who placed the blooms on the burial grounds of loved ones to denote eternal repose. Today, red poppies are used to represent death in war, sacrifice, consolation, and remembrance.

I embarked upon this creative journey with the aim of portraying the poppy, not as a pretty decorative flower, but as a metaphor of the human condition. I endeavoured to impart with each brush stroke a sense of melancholy that reflects a dark moment in our history. It is imperative that we remember the harsh reality of war, so we may ensure a future free of conflict and violence. To remember is to honour the countless lives sacrificed during the world wars, and to uphold their legacy of peace. After all, their deaths were the price of our freedom. Like the poppy that grows strong despite the odds, men too endure. In ravaged earth little else survives, yet with the desolation the poppy flourishes and brings with it hope for a brighter tomorrow.

My grandmother carries a commemorative coin of remembrance in her purse. I asked her what the significance of the piece was to her and why she kept it so close. Her tale, like countless others was tragic and bound in indescribable sorrow. Before my grandmothers knee replacement surgery, she would wake early each morning and go for a long walk. It was on one of these daily walks that she found herself deep in thought about her late father, the father she grew up never knowing. My great grandfather was only 19 years old when his life was needlessly cut short during the horrors of the second world war. He was captured and taken to a prisoner of war camp in Germany where his story abruptly ended. My great grandmother was pregnant and awaited the return of her sweetheart. Like far too many were to learn however, it was not to be. My grandmother grew up without her father and her mother in the fullness of youth, lost the love of her life. That morning, as before mentioned, my grandmother walked deep in a reverie, thinking of her father. As she did so she saw something metallic and gold in the dirt, glinting in the morning light. When stooped to pick it up, she discovered the coin of remembrance with an enamelled red poppy decorating one side. To this day she believes it was her father expressing his love for her that led her to stumble upon the coin. To hold it she said, is to hold her father near.

I often think how different life would be for my family today if my great grandfather had lived. An artist, his creativity and gentle nature has been remembered fondly by all who knew him and imparted on through stories to his daughter, grandchildren, and great grandchildren. My one wish is that his legacy can live on through my art, from artist to artist.

- Adriana Seserko
Poppy Mpressions Where The Poppies Grow Limited Edition Medallion
ORDER NOW
Poppy Mpressions Where The Poppies Grow Prints
Poppy Mpressions Where The Poppies Grow Reversible Umbrella
ORDER NOW
Poppy Mpressions Where The Poppies Grow Aluminium Artwork
ORDER NOW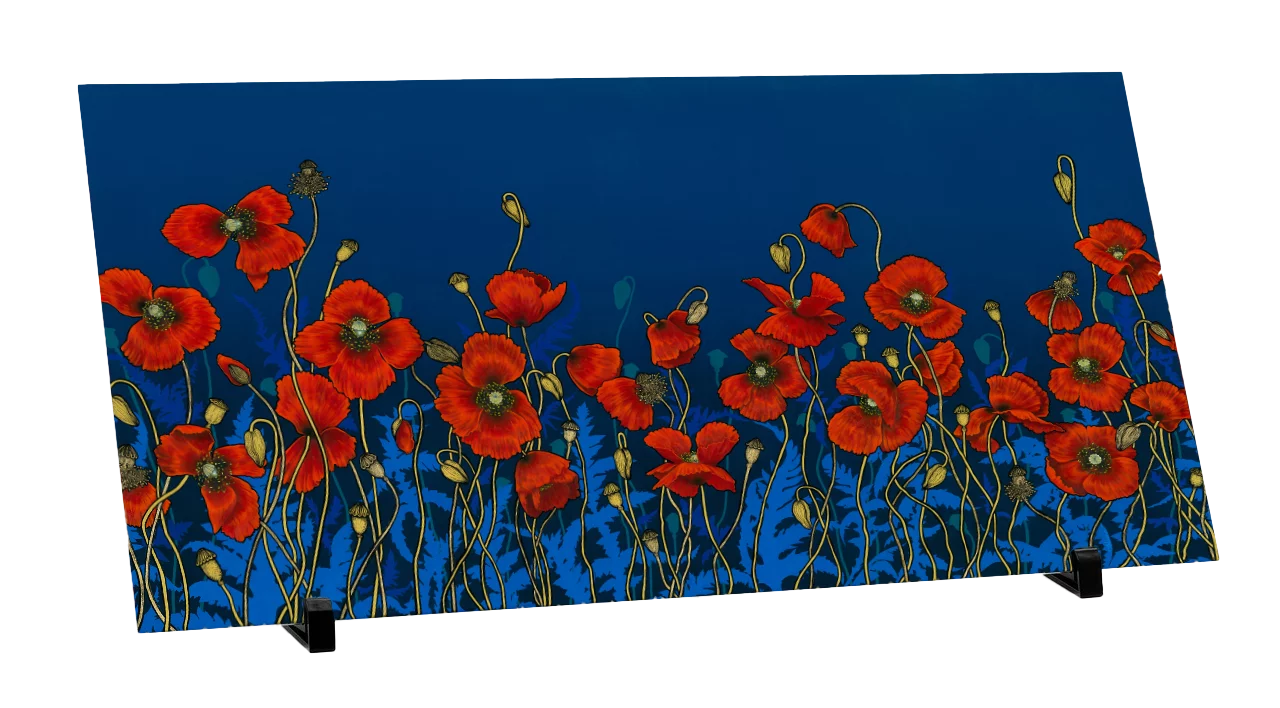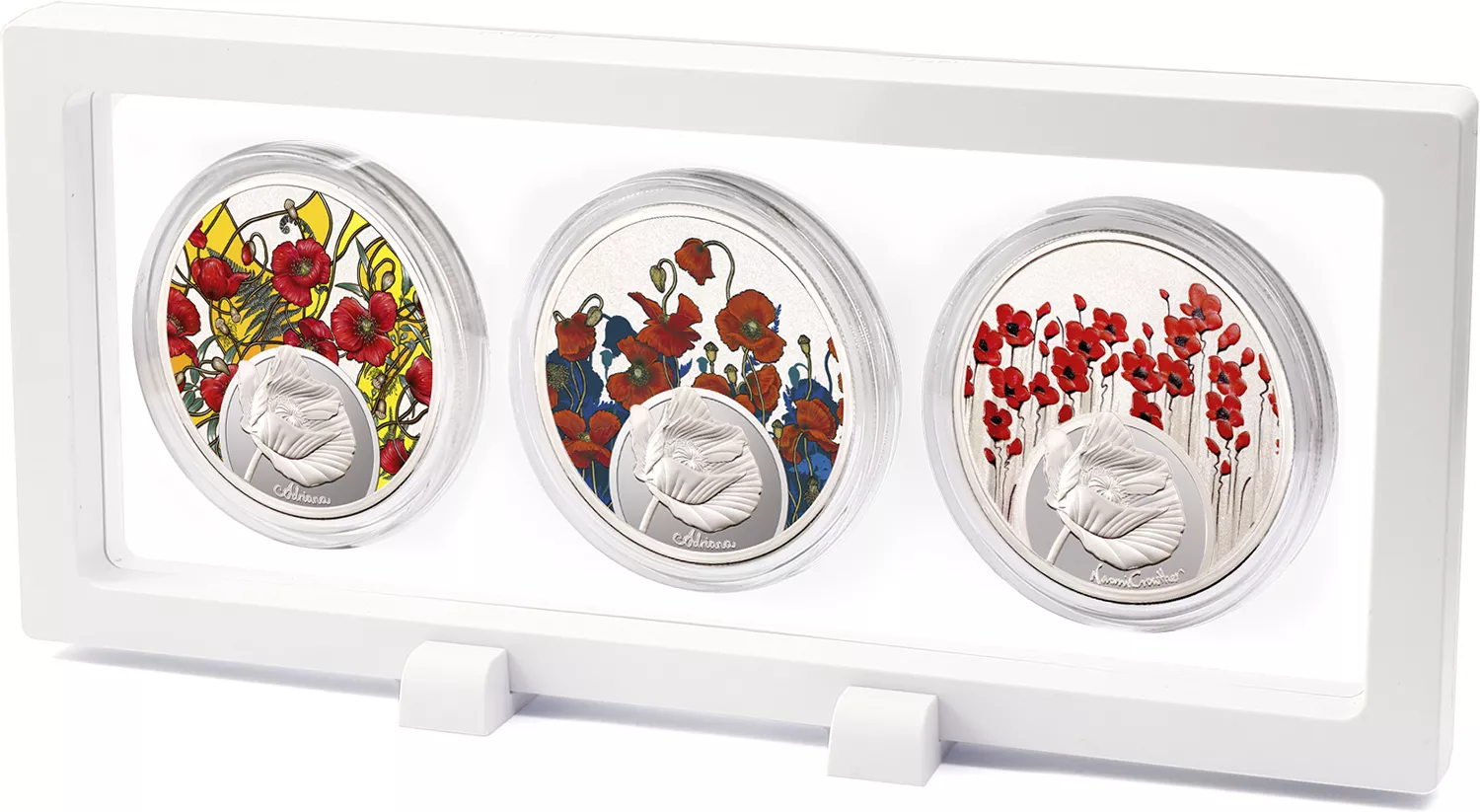 Poppy Mpressions Set Of Three Limited Edition Medallions In 3D Frame
ORDER NOW
About The Artist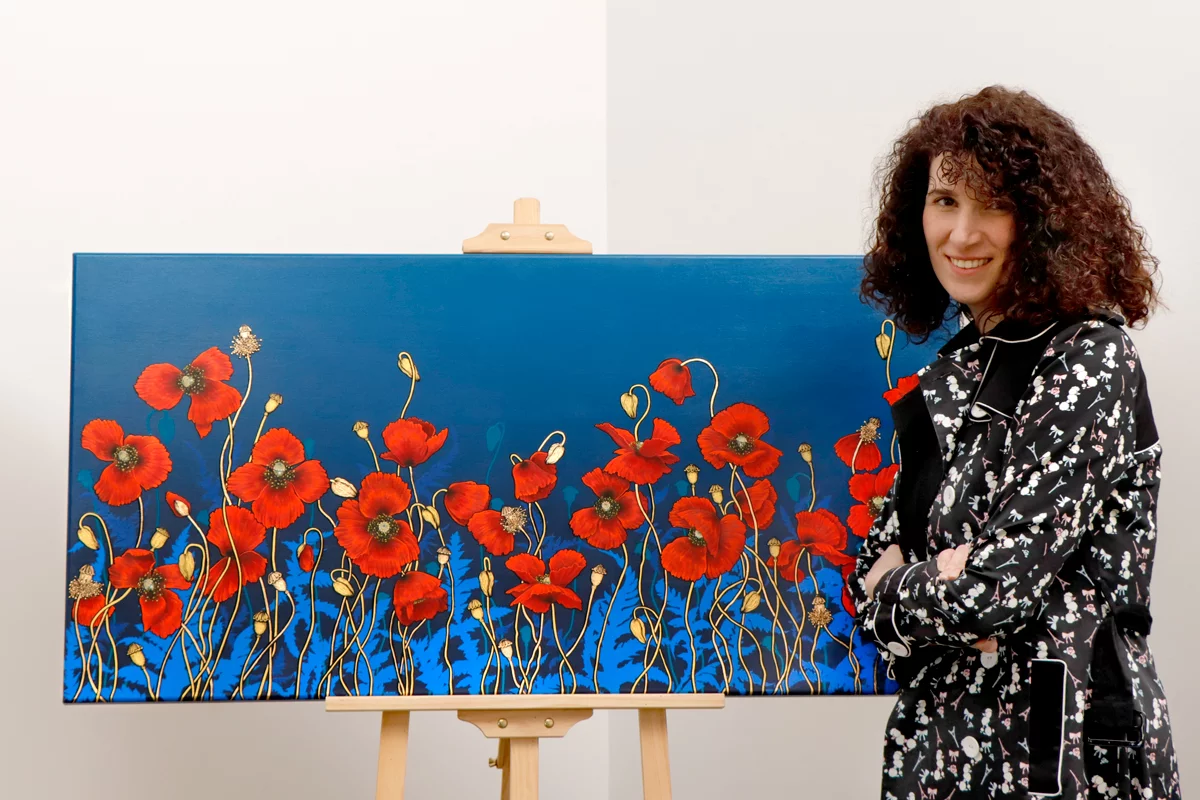 Adriana is a self taught Australian artist based in the Nations Capital. Her eye for fine detail, love of colour, and unwillingness to adhere to one style or technique make for highly unique and aesthetically pleasing works of art. Many of Adriana's pieces draw inspiration from the natural world with painted visions of magnificent animals juxtaposed with floral resplendence and portrayed in realistic and frequently surreal ways. Through brushstroke, paint, and canvas, environmental and social issues are made forefront. Adriana believes that art is the perfect instrument in which she can express new and sometimes old ideas, with the aim of sparking conversation and action in regards to world issues. Art provides Adriana with a voice. She in turn hopes to give voice to the vulnerable and the voiceless through her artworks.

Poppy Mpressions Fields of Poppies Collection
Inspired by the stirring paintings of Australian artist Naomi Crowther, the Poppy Mpressions collection focuses on lifestyle products that emphasise beauty and practicality. View the Collection
Poppy Mpressions Collection
Brothers In Arms
A stunning Collection based of the painting from Canberra artist Adriana Seserko. Australian eucalyptus leaves and New Zealand silver ferns fronds are entwined amongst the spray of Flanders poppies, evoking the bond forged from the shared military history of the two nations. View the Collection
Poppy Recollections Collection
Poppy Recollections is an evocative Australian designed collection to inspire remembrance and respect for the men and women who serve our country, both now and in years past. View the Collection