Iconic Aviation Collection - Hercules C130
☰
The Iconic Aviation Collection
Part Two: The C-130 Hercules.
The iconic C-130 Hercules is one of the most recognisable aircraft of the RAAF. Long associated with the Air Force, the C-130 Hercules has operated across a wide range of humanitarian and tactical roles, gaining this aircraft its legendary status. The second in the stunning new Iconic Aviation Collection, explore the full C-130 Hercules collection based on the vibrant artwork First and Foremost by leading Australian military artist Drew Harrison.
A limited-edition collection, celebrate this iconic aircraft and own a piece of history now.
Hear from artist Drew Harrison on the inspiration and background to this vibrant piece.
First and Foremost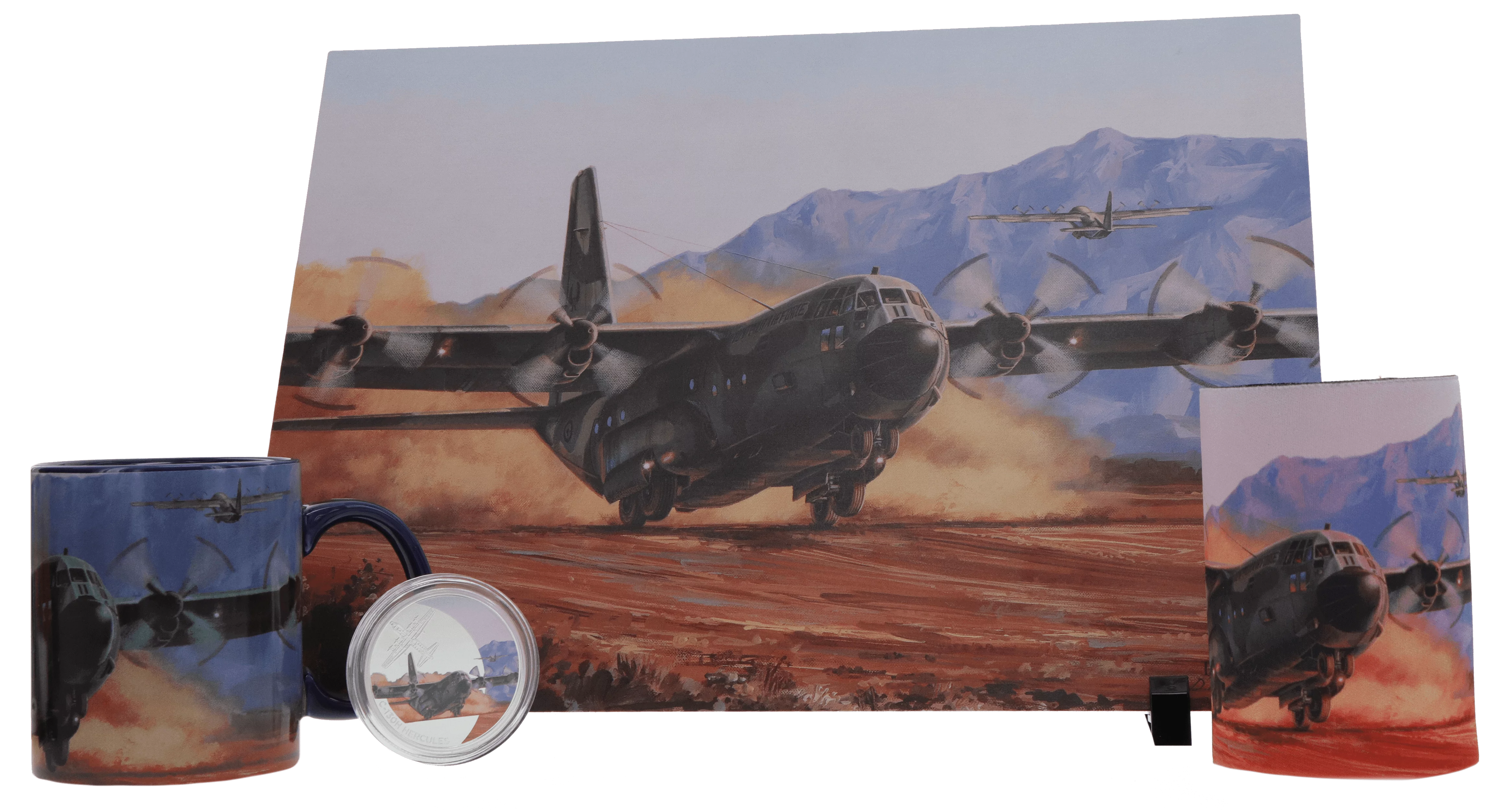 FEW AIRCRAFT HAVE ACHIEVED THE SAME LEGENDARY STATUS AS THE LOCKHEED C-130 HERCULES.
The RAAF's association with the transport began in December of 1958 when the first of twelve A models replaced an ageing Dakota fleet.
However, this was only the start of a long association with C-130s. Over sixty years the C-130 fleet has operated many roles including tactical along with humanitarian and disaster relief.
Key to these operations has been the ability to take-off and land on short, unsealed runways often to deliver troops or equipment into combat zones.
Beginning in February 2003 the RAAF's Hercules aircraft operated in the Middle East Area of Operations (MEAO).
Between 2006 and 2008 37 Squadron deployed within the MEAO, alternating between crews of the C-130H and newer C-130J models. During that time 37 Squadron lived up to its motto of 'Foremost'.
C-130H, A97-011 was one of the airframes delivered in 1978 that served with both 36 and 37 Squadrons.
By the late 2000s it was deployed to the MEAO as part of 37 Squadron before making a final flight from Richmond to the RAAF Museum at Point Cook on retirement in December 2012.
Here it remains on display with other variants of the RAAF's Hercules workhorse.
Artwork with an aircraft feel.
Presented on 3mm aluminium, this stunning copy of the vibrant and bold artwork is perfect for your home or office. A beautiful replica of the spectacular First and Foremost featuring the C-130 Hercules during take-off on a short, unsealed runway in a nod to the features and roles undertaken by this legendary aircraft. Presented on 3mm solid aluminium as a nod to the manufacturing of these renowned aircraft, make this artwork yours today. With only 250 created worldwide do not miss your opportunity to own history.
$169.00
ORDER
Commemorate your way.
A limited-edition proof quality medallion featuring beautiful snapshots from Drew Harrison's powerful artwork. Stunning silver-plated brass with the Air Force Centenary logo on the reverse. A strictly limited medallion with only 500 to be released, do not miss out on this wonderful medallion and commemorate the Air Force Centenary with this amazing collector's item.  This medallion is also part of the complete Iconic Aviation Medallion set, explore the full set below.
$45.00
ORDER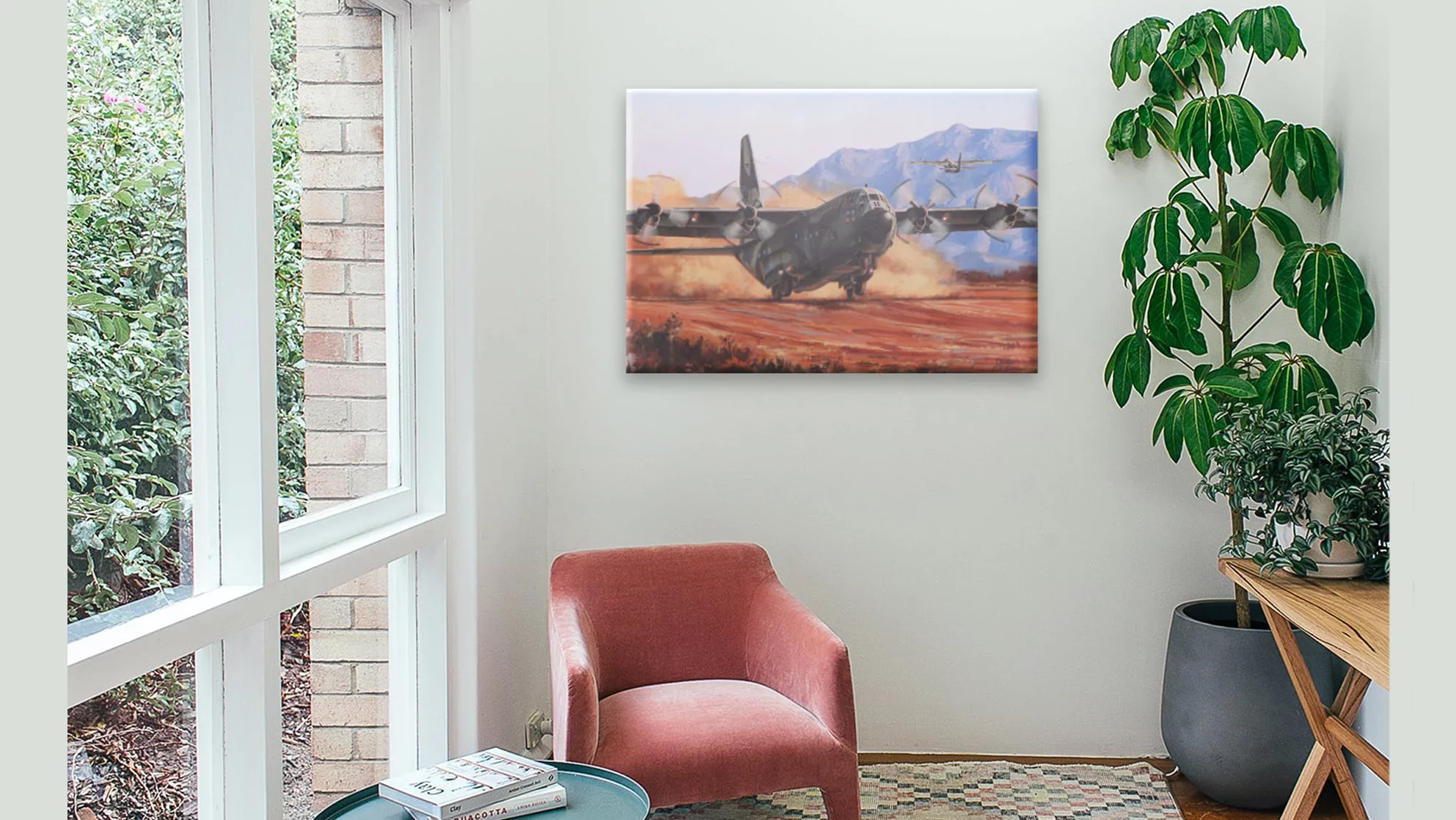 Created to last.
Limited to 100 copies, secure your copy of this superb reproduction of Drew Harrison's First and Foremost. Faithfully replicated using the latest scanning and printing methods this canvas artwork is an ideal showpiece for your office or home. Printed on Hahnemühle Daguerre Canvas - a heavyweight, bright white poly-cotton inkjet canvas with a fine, uniform surface texture – it is acid and lignin-free and when printed with pigment inks, meets the most exacting requirements of age resistance, fade tested up to 75 plus years. Measuring 600mm x 450mm this precise replica is presented on varnished canvas and is imbued with museum quality. A historic and vibrant artwork for your space. Secure your limited-edition copy now.
$249.00
ORDER
A museum-quality print for your home.
A print of this beautiful artwork is perfect for your space and makes a sensational gift for yourself or a loved one. Printed using archival inks on 310gsm True Rag Etching Paper, these artworks are museum quality and tested not to fade for over 75 years. With the full sheet measuring 700mm x 550mm, this vibrant print is presented with a limited-edition certificate of authenticity and in-depth artist note. A beautiful collector's item, secure one of the 250 limited edition prints now.  
$195.00
ORDER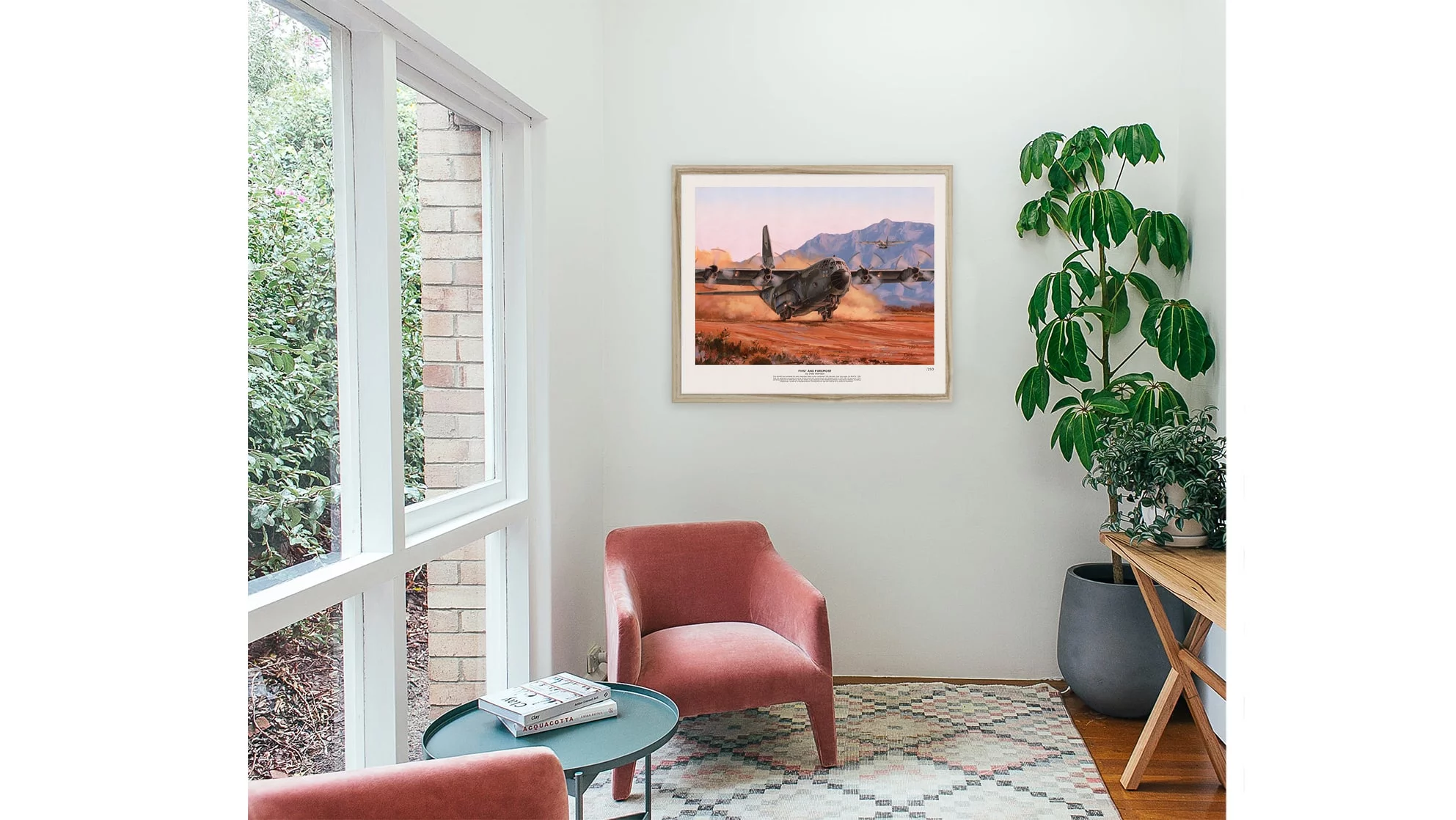 A new mug for your mornings.
Perfectly wrapped around this ceramic coffee mug, Drew Harrison's First and Foremost brings beautiful artwork into your kitchen. A fantastic limited-edition coffee mug featuring an intricately detailed schematic of the aircraft in the base and limited edition touches throughout, this coffee mug is a perfect addition to your home or office. This mug also comes as part of our complete set of six coffee mugs. Get the complete collection and kit out your kitchen now. Secure the full collection below and save on your shipping. Explore now.
$15.00
ORDER
Your new go-to drink cooler.
Carry this striking artwork with you to your next barbeque, a perfect drink cooler to commemorate this long-serving and much-loved aircraft. With only 1000 available, do not miss your opportunity to get your hands on this eye-catching cooler and celebrate this legendary aircraft. Want to save on shipping? This stunning drink cooler is part of the complete set of six. Order now and secure your complete limited edition set. Explore the complete limited edition set below.
$10.00
ORDER
Discover the sets and begin your journey with the Iconic Aviation Collection.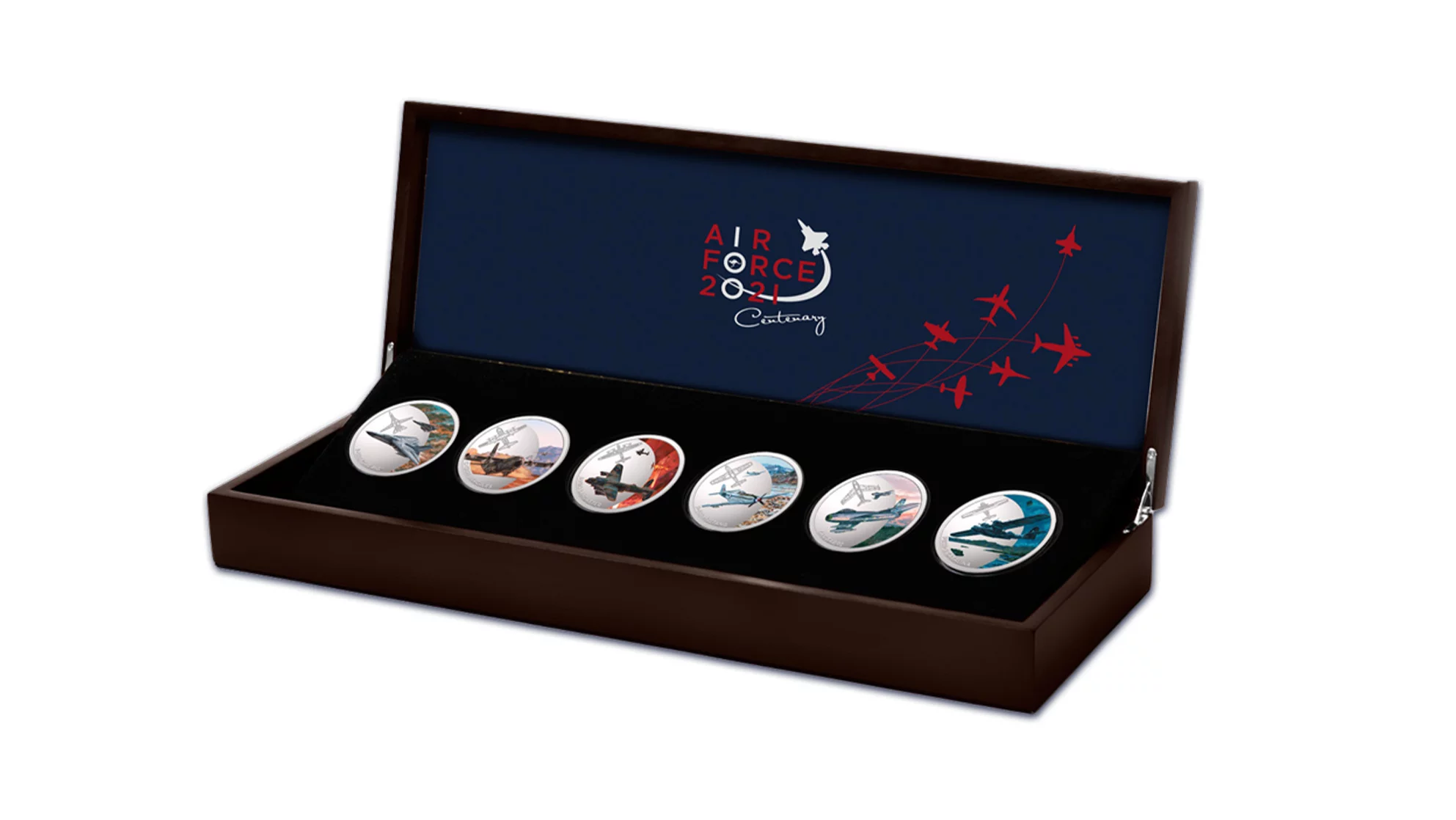 Air Force 100 Iconic Aviation Limited Edition Medallion Set of 6 .
The striking Air Force 100 Iconic Aviation Limited Edition Medallions. A breathtaking collection to commemorate the Air Force Centenary. This strictly limited proof-quality set of medallions features the six new stunning artworks from Drew Harrison celebrating some of the most iconic aircraft operated by the RAAF. Minted from brass alloy and finished in highly polished silver, these stunning medallions capture snapshots of the range of aircraft operated by the RAAF over the past century. Featuring full-colour renderings from the artworks and raised schematics of each aircraft, this set is not to be missed. Only 1000 sets are available, secure yours now. Order early to secure the lowest numbers.  
$225.00
ORDER
Set of Six Limited Edition Coffee Mugs by Drew Harrison.
The complete collection of limited-edition coffee mugs features the beautiful new artworks by leading Australian military aviation artist Drew Harrison. Complete with a schematic of each aircraft in the base and limited-edition details, these stunning mugs capture snapshots of the wide range of aircraft operated by the RAAF over the past century. With only 1000 sets worldwide, secure a set of all six striking mugs, perfect for any home or office. Order now.
$90.00
ORDER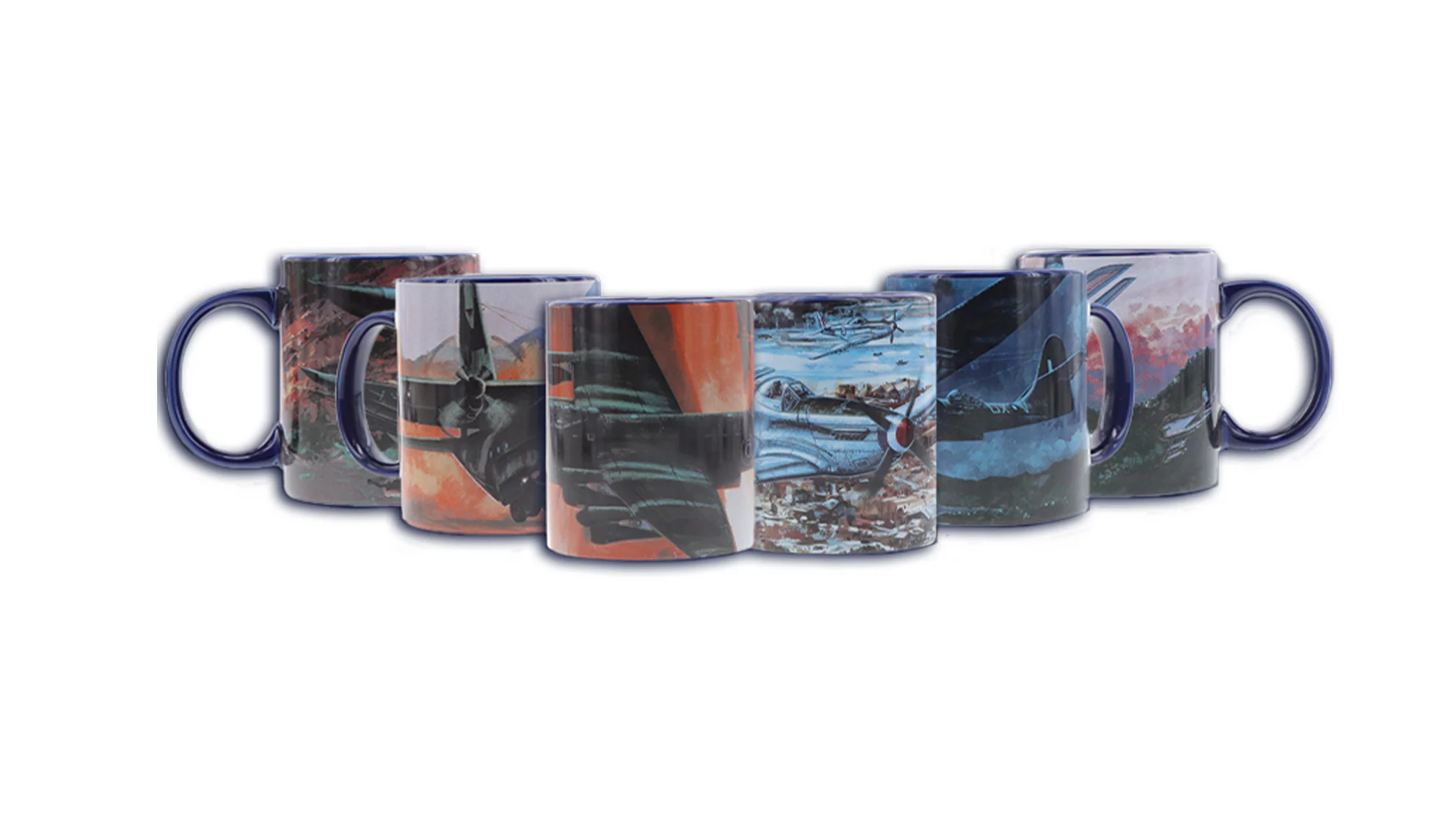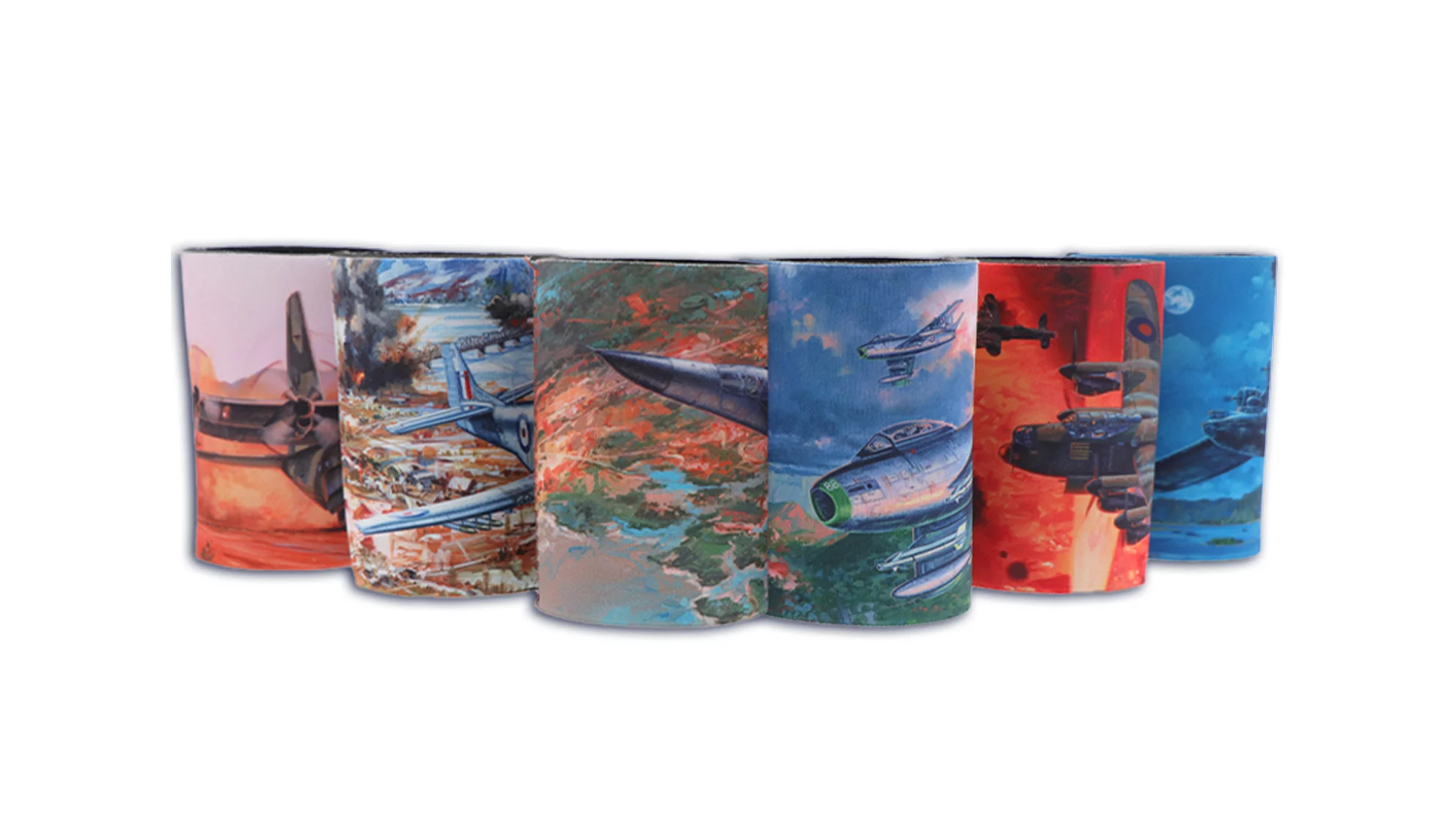 Set of Six Limited Edition Drink Coolers by Drew Harrison .
The collection of the six iconic limited edition drink coolers featuring the stunning artwork of Drew Harrison and depicting some of the most recognisable aircraft of the Air Force. Limited to only 1000 sets. With schematics of the aircraft and limited-edition details inside, these stunning coolers capture the range of aircraft operated by the RAAF over the past century in beautiful detail. Only 1000 sets are available worldwide, so secure these drink coolers now and be the envy of everyone at your next barbeque. Do not miss out.
$60.00
ORDER
About the Artist:
Drew Harrison is one of Australia's leading military aviation artists. Based in Adelaide, South Australia, Drew is an award-winning practising professional artist and an acrylic paint specialist.
Creating artworks that are characteristically unique and a fresh take in the military art space, Drew has a meticulous eye for the incredible detail and accuracy captured in his paintings.
Drew was previously commissioned by the Air Force Shop to create an artwork to truly memorialise the magnificent milestone of the Air Force Centenary.
Continuing our wonderful relationship with Drew, six new works have been commissioned, creating highly researched and beautifully detailed artworks of six iconic aircraft operated by the RAAF.
A timepiece for the ages. The Limited-Edition Hercules Airfield Watch. 
The unmissable Hercules Airfield Watch. Designed in collaboration with the Australian Air Force, this unisex design features intricate details on the face
and is embossed with the mighty Hercules on the case back. A timeless way to commemorate the Air Force Centenary.  
This limited-edition watch comes with a specially designed key ring inset with a piece of metal from C-130H Hercules A97-012,
with only 1000 to be made secure your watch and carry a piece of history with you.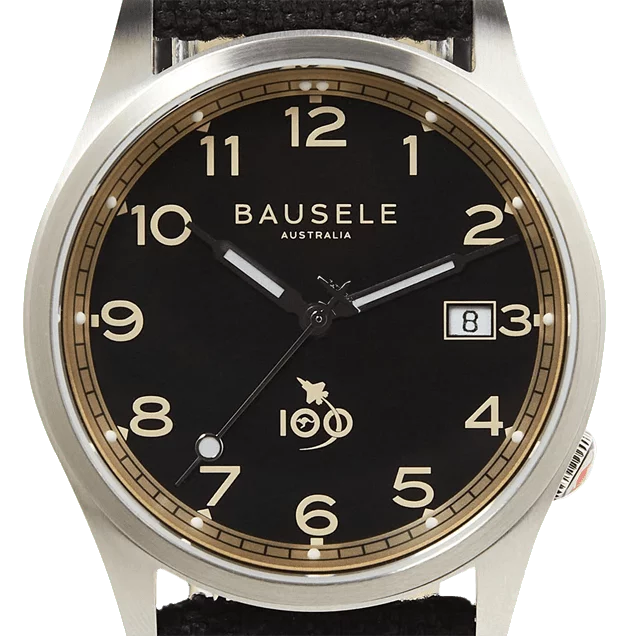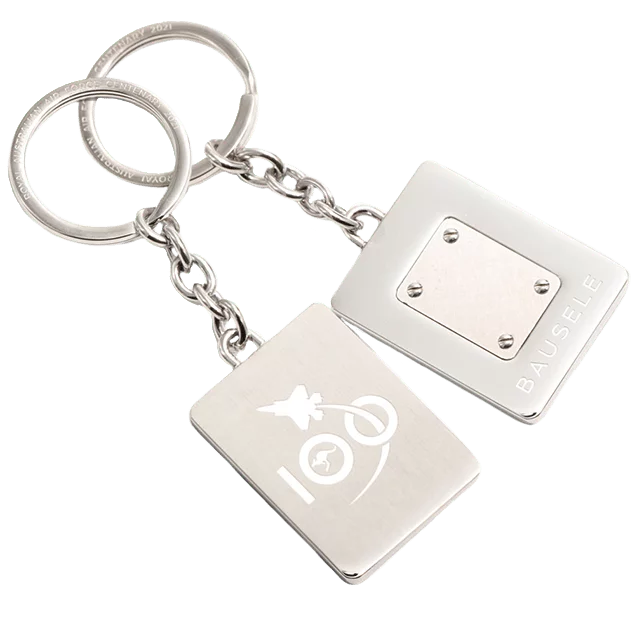 Discover our other fantastic collections
and celebrate all things Air Force.
HISTORIC COLLECTION
EXPLORE THE COLLECTION
HERITAGE COLLECTION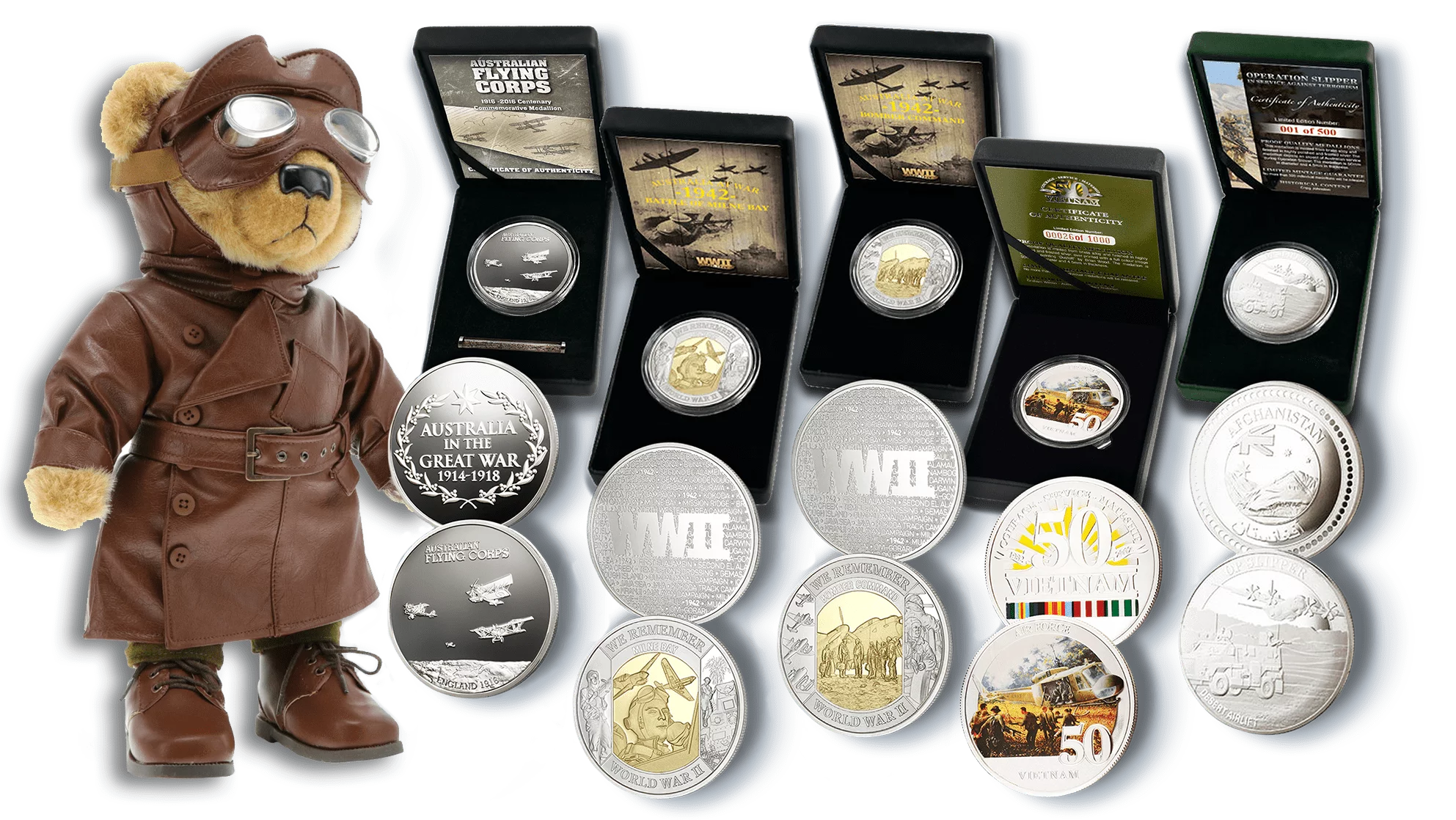 EXPLORE THE COLLECTION
AIR FORCE 100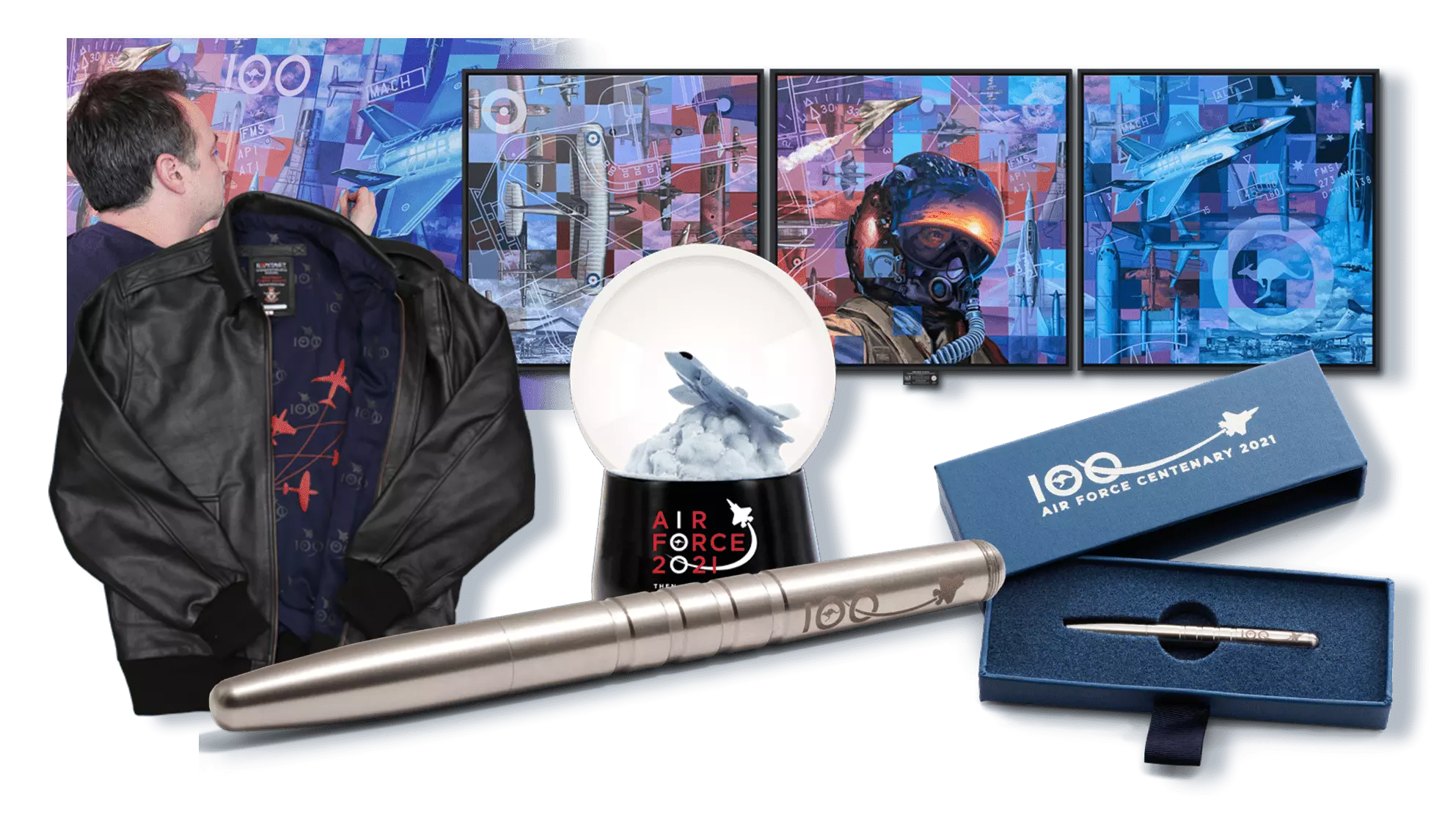 EXPLORE THE COLLECTION