Air Force 100 Collection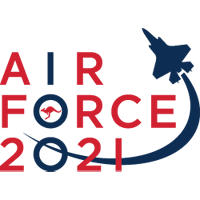 Official Online Shop
☰


AIR FORCE 100
Centenary of Air Force Official Online Shop
2021 marks the centenary of Air Force. From its modest beginnings in 1921, Air Force has grown into a potent, world class Air Force which Australia relies upon in both conflict and peace.
By purchasing this product you are supporting the restoration and preservation of historic RAAF aircraft.
Then. Now. Always.
LIMITED EDITION WATCHES FROM BAUSELE
EXCLUSIVE PRE-ORDER FEATURES
Two stunning limited edition watches crafted to commemorate 100 years of the Royal Australian Air Force. Each watch has special additions only for the pre-order period.
The Airfield
The Airfield watch takes inspiration from the official issue RAAF Pilot watches from the 1940s and 1950s. Pre-order offer includes limited edition numbering and a special key ring incorporating a piece of an RAAF DHC-4 Caribou.
View The Airfield
The Aviator
The Aviator watch looks to the future and takes inspiration from the cornerstone of the RAAF centenary celebrations; Now, Then, Always. This premium watch features an automatic Swiss movement. Limited edition numbering and a piece cut directly from aircraft number A21-01, the first F/A-18A Hornet fighter jet made and flown in Australia incorporated into the case are available during the pre-order period.
View The Aviator
PRE-SALE ENDS 15 DECEMBER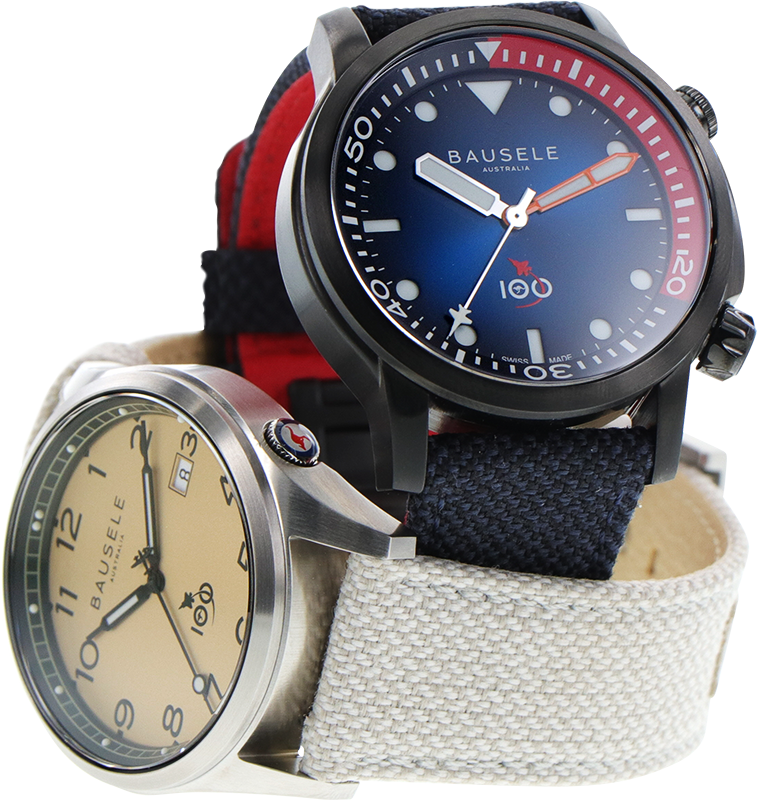 Air Force 100 Limited Edition Officer's Sword
This special edition of the Air Force Officer's sword, limited to only 250 examples, has the Air Force Centenary logo and limited edition number etched into the blade. There is space on the opposite side of the blade to be etched to its owners desires.
FIND OUT MORE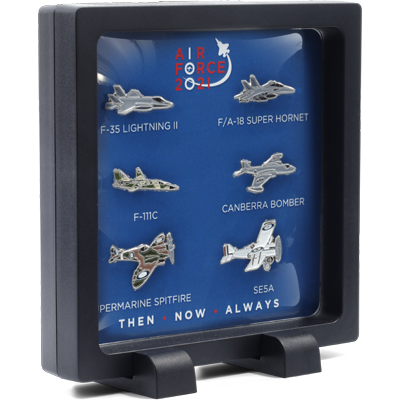 Air Force 100 Framed Lapel Pin Set
A collection made to be displayed as well as worn. Six iconic planes from the last 100 years of Air Force beautifully housed in a 3D frame. The frame can be self standing or wall mounted. More than a simple picture frame this amazing silicon membraned frame will hold a huge range of 3D keepsakes.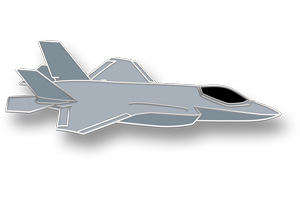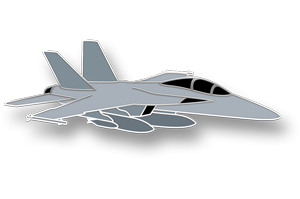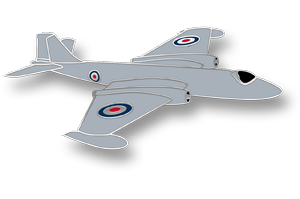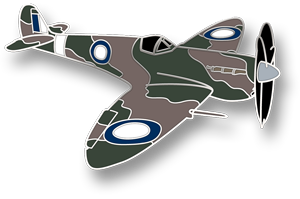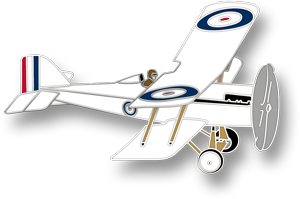 $32.95
ORDER
Air Force 100 Apparel & Accessories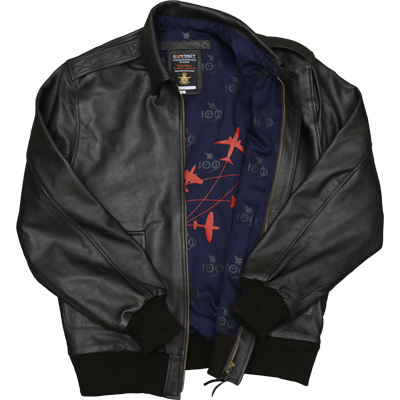 Air Force 100 Special Edition A2 Leather Flight Jackets
These functional and stylish jackets, based on the United States WW2 A2 jacket, are made from quality soft goatskin leather. Superior metal fittings and heavy duty stitching ensure long wear while the elastic knit waistband and cuffs guarantee comfort. Our flight jackets are available with or without hook-and-loop fastener panels for affixing patches and have been inspected by RAAF and approved for uniform wear by Air Force personnel.
The special Centenary version of this popular jacket features a custom printed lining with the Air Force Centenary logo and aircraft silhouettes on a dark blue field. Finishing the design is the Centenary logo embossed on a leather patch below the inside pocket.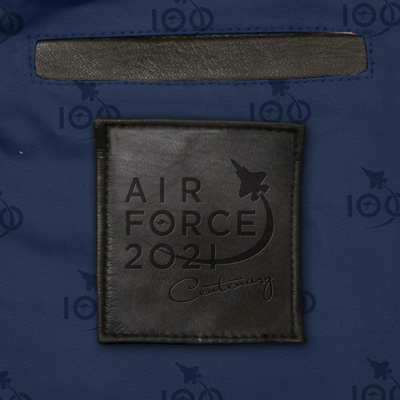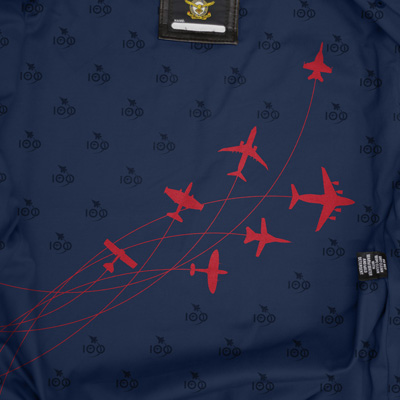 FIND OUT MORE
Air Force 100 Toys & Games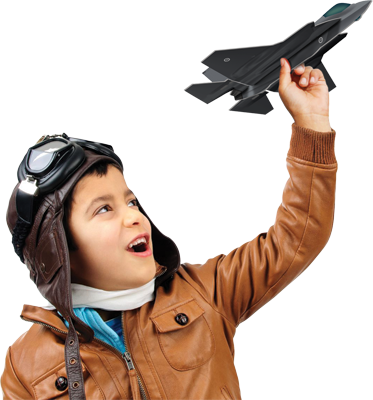 Air Force 100 Foam Glider Set
Real Flying Gliders! Assemble your own piece of history with this build it yourself glider kit.
Put together some of the most iconic planes of the last 100 years of the Royal Australian Air Force.
Hours of fun & entertainment for kids and adults alike.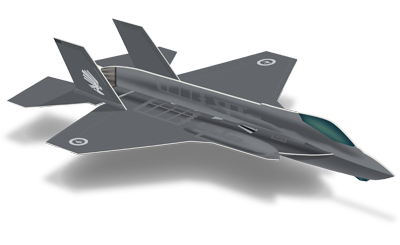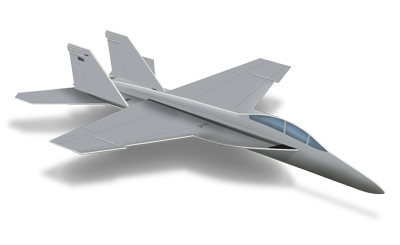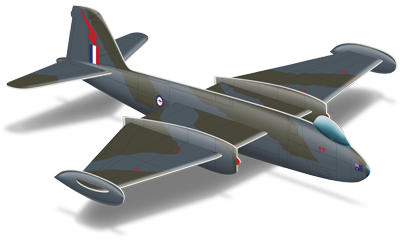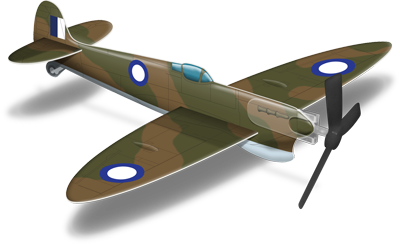 $9.95
ORDER