Air Force 100 Limited Edition Medallions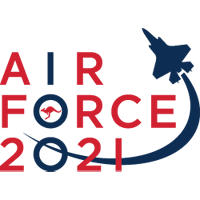 ☰


AIR FORCE 100 LIMITED EDITION MEDALLIONS
Centenary of Air Force Official Online Shop
An Exceptional Collection
The stunning Air Force 100 Limited Edition Medallion collection plays a special part in the commemoration of the Air Force Centenary in 2021.
The six limited-edition proof quality medallions are minted from brass alloy and finished in highly polished silver. Each medallion features artwork by Drew Harrison, one of Australia's leading military aviation artists, and also includes a schematic of the aircraft in frosted silver. The reverse each medallion features the Air Force Centenary logo.
Six iconic aircraft from Air Force's past and present are represented.
Limited Release: 1,000 individual medallions. 1,000 sets.
Material: Brass alloy with sterling silver plate.
Finish: Mirror polished and frosted with full colour over-print.
Size: 50mm x 4.5mm thick.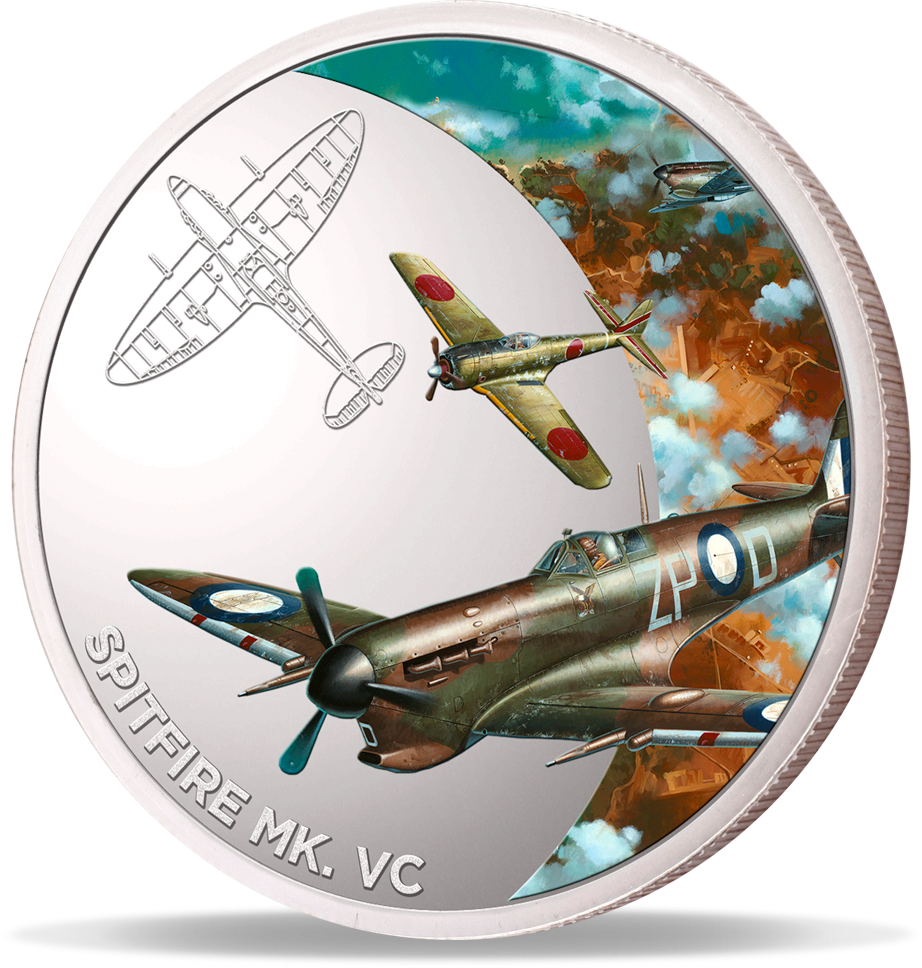 SPITFIRE MK. VC LIMITED EDITION MEDALLION
The Supermarine Spitfire is the most well known fighter plane of the Second World War. Over 900 aircraft were operated by Nos 451, 452, 453 and 457 Squadrons between 1941-1945.
The medallion features a Spitfire Mk. Vc from Drew Harrison's Pressure Point.
FRONT

BACK

PRESENTATION CASE

PACKAGING
ORDER YOURS
PRESSURE POINT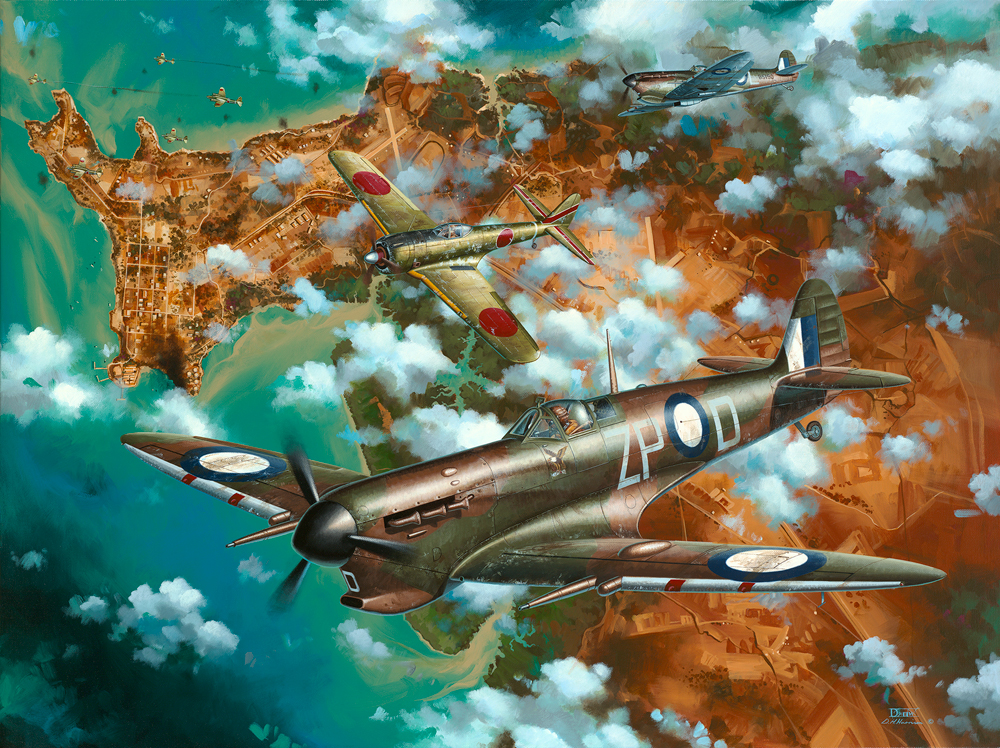 On 20th June 1943 bombers and fighters of the IJAAF bombed Darwin. 452 (Aus) Sqn RAF and 54 Sqn RAF intercepted NE of the harbour while 457 (Aus) Sqn RAF were sent to investigate another plot further north. By the time 457 Sqn re-engaged, Ki-49 'Helen' bombers of the 61st Sentai were almost directly over the township. F/Lt P.H. Watson DFC led the three sections of 457 Sqn Spitfires into a dangerous and difficult head on attack. White flight repeated the manoeuvre, however, John 'Smithy' Smithson (White 3 - ZP-L, BS190), leading the second section of William 'Jack' Halse (White 4 - ZP-D), noted the difficulty of their position and readjusted for a more favourable quarter attack. Smithson fired at one of the bombers in a dive, then pulled up behind the enemy force with Halse sticking to his leader's tail. White 3 managed to get a bead on one of the escorting fighters, a Ki-43 'Oscar' of the 59th Sentai, and opened fire with cannon to claim the enemy destroyed. Another 'Oscar' had latched onto Halse in ZP-D. Both the Australians were now separately engaged and forced to fight their way out.
CANBERRA MK.20 LIMITED EDITION MEDALLION
On 29 May 1953, the first Australian-built Canberra performed its first flight at Avalon Airport, Victoria; this aircraft was delivered to the RAAF for service trials a few weeks later. In December 1953, the Canberra, named after the Australian capital, formally entered Australian service. Canberra continued to be used by Australia for a total of 29 years before its retirement in June 1982.
The medallion features Canberra MK.20 bombers from Drew Harrison's Night Spectres.
FRONT

BACK

PRESENTATION CASE

PACKAGING
ORDER YOURS
NIGHT SPECTRES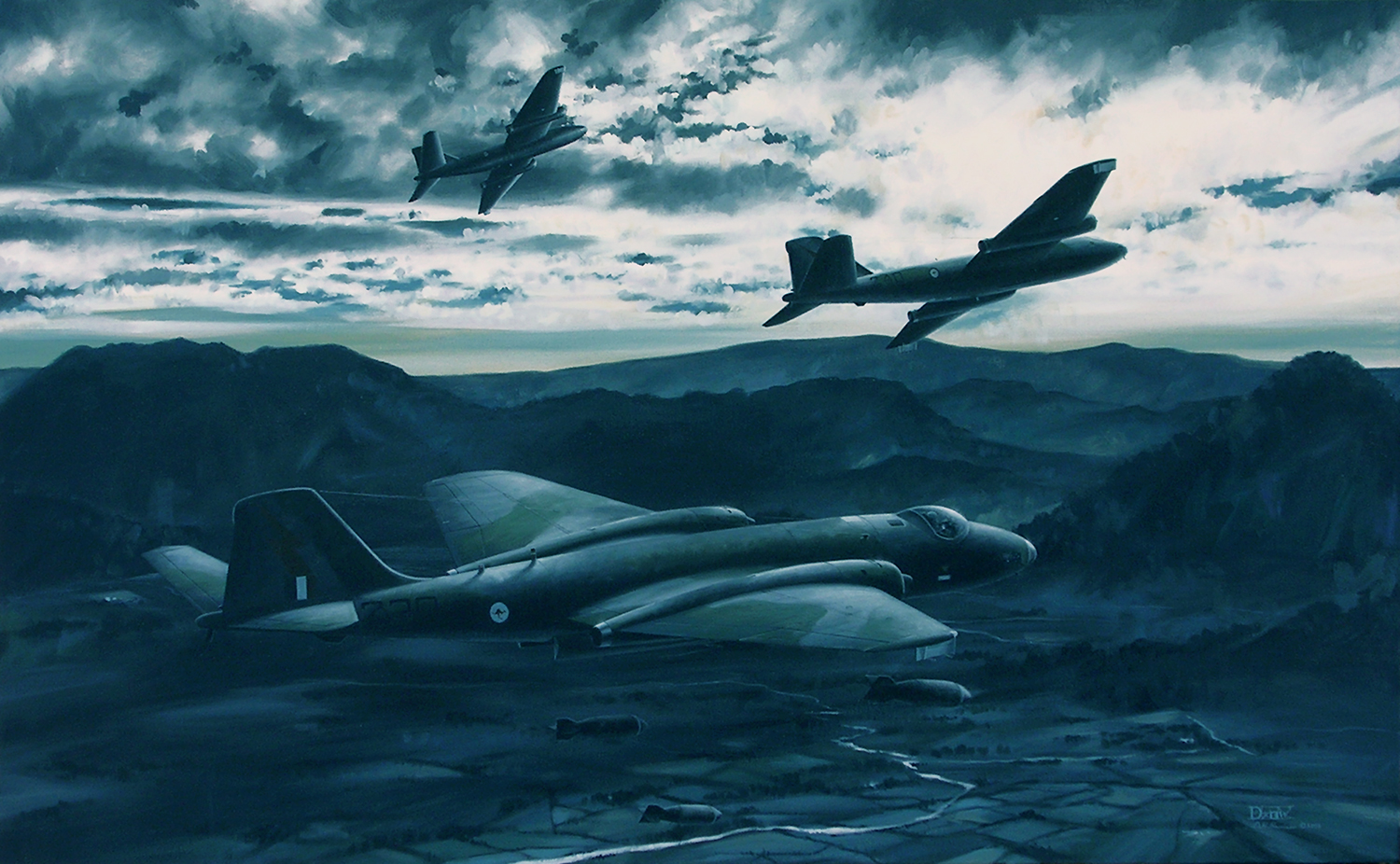 2 Squadron (RAAF) was again in action during the Vietnam War, having seen continued service throughout both World Wars and the Malayan Emergency. Australia had deployed several helicopter squadrons and support units to South East Asia, however, 2 Sqn was the sole RAAF-fixed wing strike capability in South Vietnam. The unit deployed with Canberra bombers in 1967 and was immediately involved on bombing operations. During four years of service the unit was regarded as one of the pre-eminent bomber squadrons. Superb accuracy was achieved on day and night time missions and the dedicated ground crews provided an enviably high rate of aircraft serviceability. Night Spectres depicts Canberra bombers of 2 Squadron (RAAF) striking targets during the early phases of the Vietnam conflict.
MIRAGE III O LIMITED EDITION MEDALLION
The Mirage IIIE powered by the SNECMA Atar engine, was built under license by Government Aircraft Factories (GAF) at Fishermans Bend, Melbourne. Known as the Mirage IIIO or GAF Mirage, the Australian variant differed from the Mirage IIIE mainly in its avionics. 100 aircraft were built, of which 98 were built under licence in Australia. The first 49 were Mirage IIIO(F) interceptors which were followed by 51 Mirage IIIO(A) fighter bombers.
The medallion features a Mirage III O from Drew Harrison's Exercise Kangaroo.
FRONT

BACK

PRESENTATION CASE

PACKAGING
ORDER YOURS
EXERCISE KANGAROO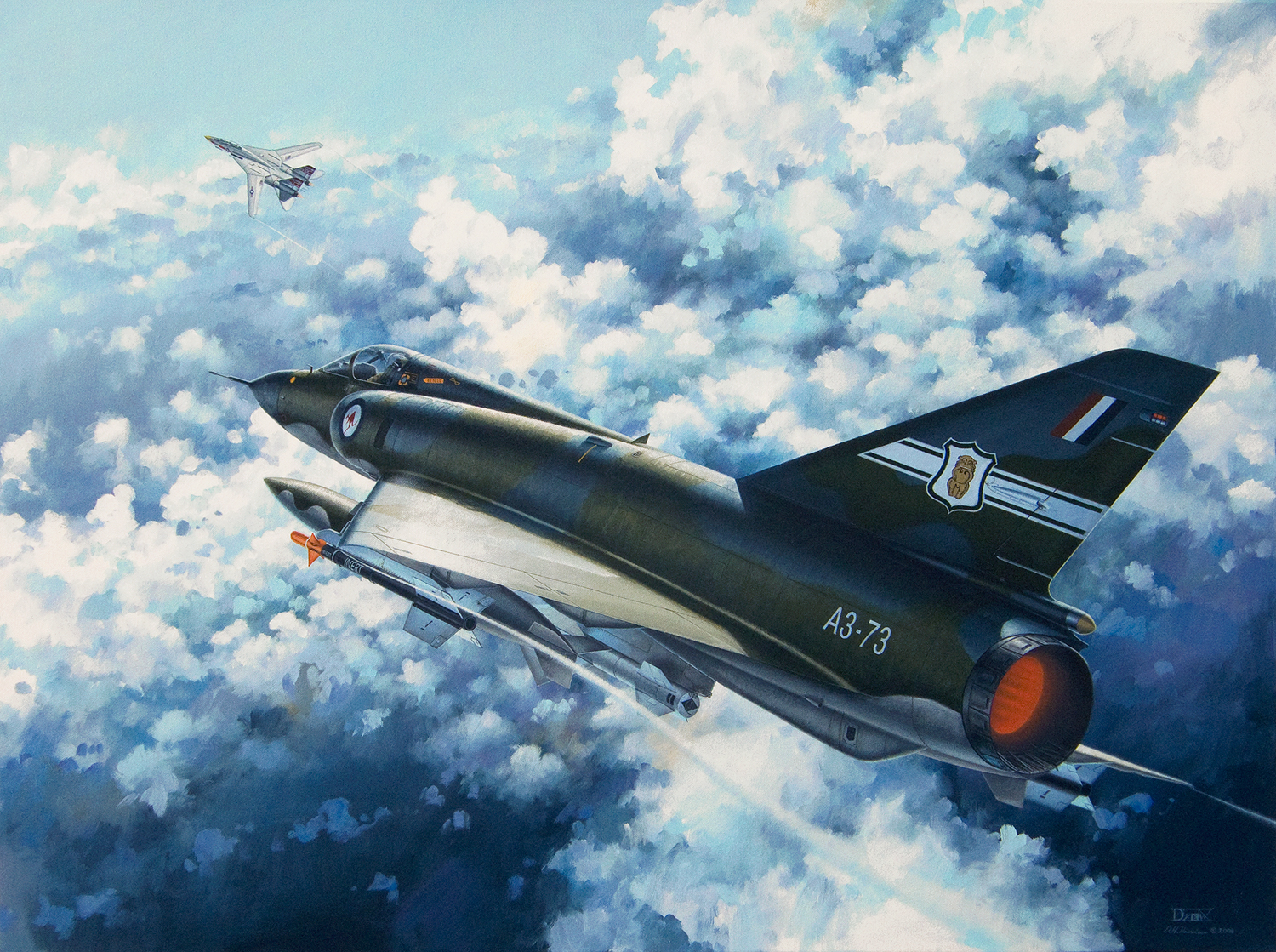 During October of 1976 the United States Navy (USN) and Royal Australian Navy (RAN) along with the Royal Australian Air Force (RAAF) gathered for Exercise Kangaroo II. During the war games, Dassault Mirage III fighters of 77 Sqn RAAF were pitted against F-14 Tomcats in dissimilar aircraft combat tactics. 77 Sqn's adversary was the USN's VF-1 'Wolfpack'. This squadron wielded a new frontline strike weapon - the formidable Grumman F-14 Tomcat. Embarked upon USS Enterprise it was VF-1's first deployment with the F-14. Although an outstanding long-range interceptor the American fighter was no match for the agile Mirage at close quarters. Pilots of 77 Sqn recorded several gun-camera 'kills' against their larger more modern combatants. An outstanding achievement for a fighter that was entering the twilight years of RAAF service.
UH-1B IROQUOIS LIMITED EDITION MEDALLION
The Royal Australian Air Force employed the UH-1H until 1989. Iroquois helicopters of No. 9 Squadron RAAF were deployed to South Vietnam from mid-1966 in support of the 1st Australian Task Force. UH-1 helicopters were used in many roles including troop transport, medevac and Bushranger gunships for armed support. No. 35 Squadron and No. 5 Squadron also operated the Iroquois in various roles through the 1970s and 1980s.
The medallion features a UH-1B Iroquois from Drew Harrison's Night Spectres.
FRONT

BACK

PRESENTATION CASE

PACKAGING
ORDER YOURS
HOT LZ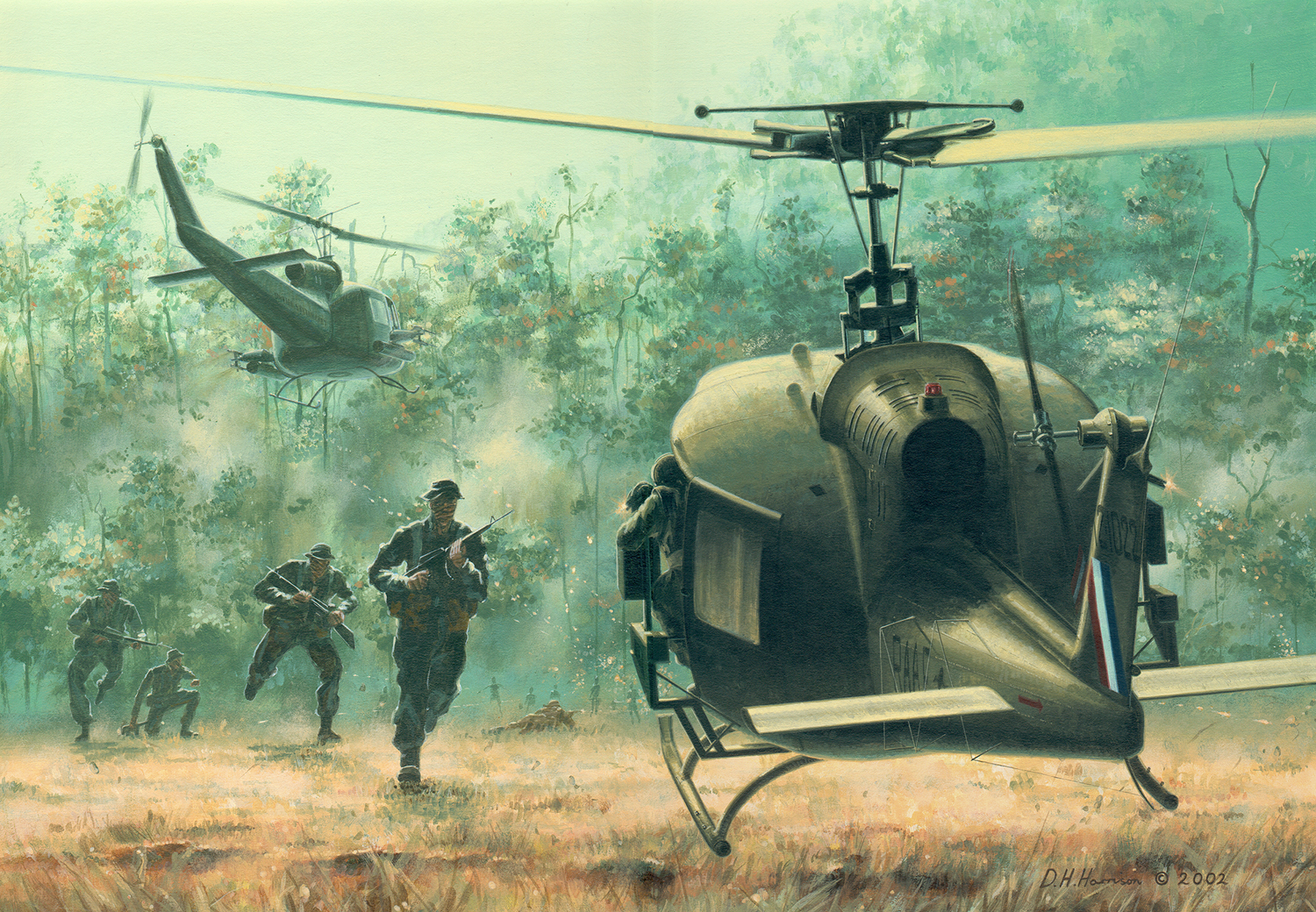 On 10th August 1967 two 9 Squadron RAAF UH-1B 'Hueys' were assigned to provide 'insertion' of an SAS long range reconnaissance patrol approximately fifteen minutes from the squadron's base at Nui Dat. Soon after delivery at the landing zone (LZ) the patrol commander radioed for an immediate retrieval. The small squad had come under intense gunfire from a large force of North Vietnamese Army troops. The helicopters were vectored to a nearby clearing in order to perform a 'hot' extraction, i.e. under enemy fire. Upon arrival the lead helicopter advised that the situation was worsening. Arriving in the second RAAF helicopter, P/O Mick Haxell, P/O Byrnes, LAC McCreadie and LAC Malcolm agreed to perform the retrieval. The crew successfully rescued the troops while Haxell also had to contend with very difficult flying conditions and the subsequently heavily loaded helicopter, all while under automatic weapon fire from the enemy. For his combat actions and other flying duties with 9 Squadron he would be awarded the DFC and later command the unit.
F/A-18A HORNET LIMITED EDITION MEDALLION
The first operational deployment of RAAF Hornets took place in 2001. Following the 11 September terrorist attacks, the Australian Government agreed to deploy F/A-18s to protect the major USAF air base on the Indian Ocean island of Diego Garcia. RAAF Hornets have also provided air defence for several high-profile events in Australia since the 11 September attacks. In 2002, Hornets patrolled over the Commonwealth Heads of Government Meeting (CHOGM) at Coolum Beach, Queensland; this was the first time RAAF aircraft had flown air defence sorties over Australia since World War II.
The medallion features two F/A-18A Hornets from Drew Harrison's Operation Falconer.
FRONT

BACK

PRESENTATION CASE

PACKAGING
ORDER YOURS
OPERATION FALCONER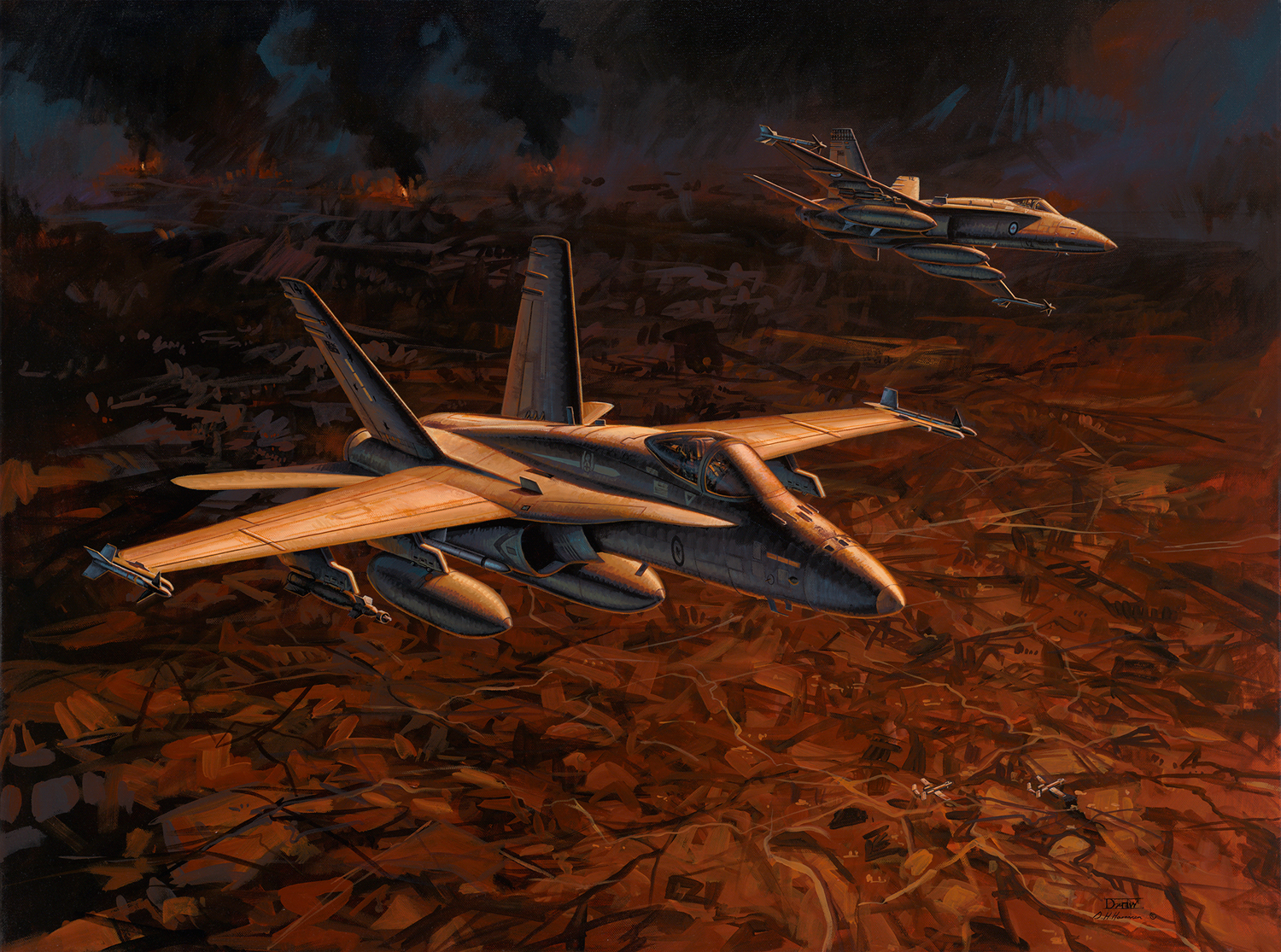 In 2003 the Iraqi Regime under Saddam Hussein failed to comply with United Nation's diplomatic efforts and the Coalition led Operation Iraqi Freedom was launched in response on 19/20th March. A commitment by the Australian Defence Force was initiated under Operation Falconer. The mutli-role capability of the F/A/-18 Hornet was fully tested between 20th March and 2nd May 2003 when the Australian fighter force flew numerous missions ranging from strike and close air support to defensive operations. On 1st April 2003 S/Ldr Glen Beck and his wingman, F/O John Haly, flew a typical strike against Iraqi armour on the roads of South Eastern Iraq. Following marking of targets by USAF A-10s the two Hornets successfully dropped their laser guided GBU-12 bombs before exiting the combat zone. Although most of the deployed aircraft were drawn from 75 Squadron RAAF the Hornets wore a variety of markings reflecting the crews from 3, 75 and 77 Squadrons RAAF.
C-17A GLOBEMASTER III LIMITED EDITION MEDALLION
The Royal Australian Air Force took delivery of its first C-17 in 2006 with it arriving in Canberra, on the 4th of December that year. The aircraft was formally accepted in a ceremony at Fairbairn shortly after arrival. All the Australian C-17s are operated by No. 36 Squadron and are based at RAAF Base Amberley in Queensland
The medallion features a C-17A Globemaster II from Drew Harrison's Global Outreach.
FRONT

BACK

PRESENTATION CASE

PACKAGING
ORDER YOURS
GLOBAL OUTREACH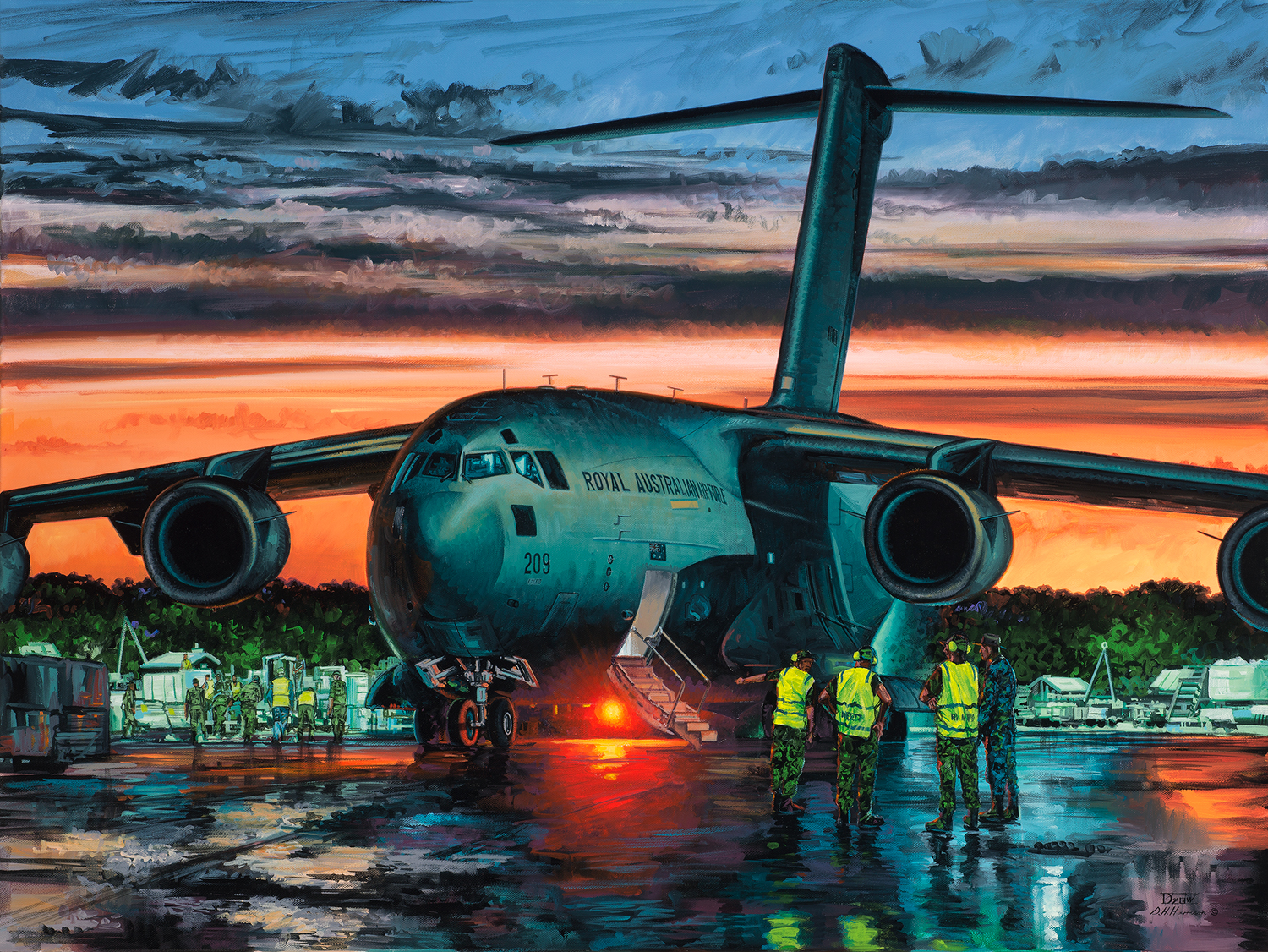 The impressive Boeing C-17A Globemaster III was entered into Royal Australian Air Force service during 2006. Since then the massive transport aircraft have supplemented the C-130 Hercules fleet. Globemasters have greatly extended the RAAF's strategic airlift capabilities providing the versatility to rapidly deploy vehicles, troops and supplies anywhere in the world. In 2016, 36 Squadron's C-17s at Amberley are regularly on operations and include support for humanitarian and disaster relief missions. In these latter roles Globemasters have provided an unrivalled outreach to supply Australian Aid during missions such as Operation Philippines Assist – the response to Typhoon Haiyan.
AIR FORCE 100 SET OF SIX LIMTED EDITION MEDALLIONS
All six of the spectacular Air Force 100 Limited Edition Medallions presented in a stunning velvet-lined, timber-finish display box.
Only 1,000 sets will be released.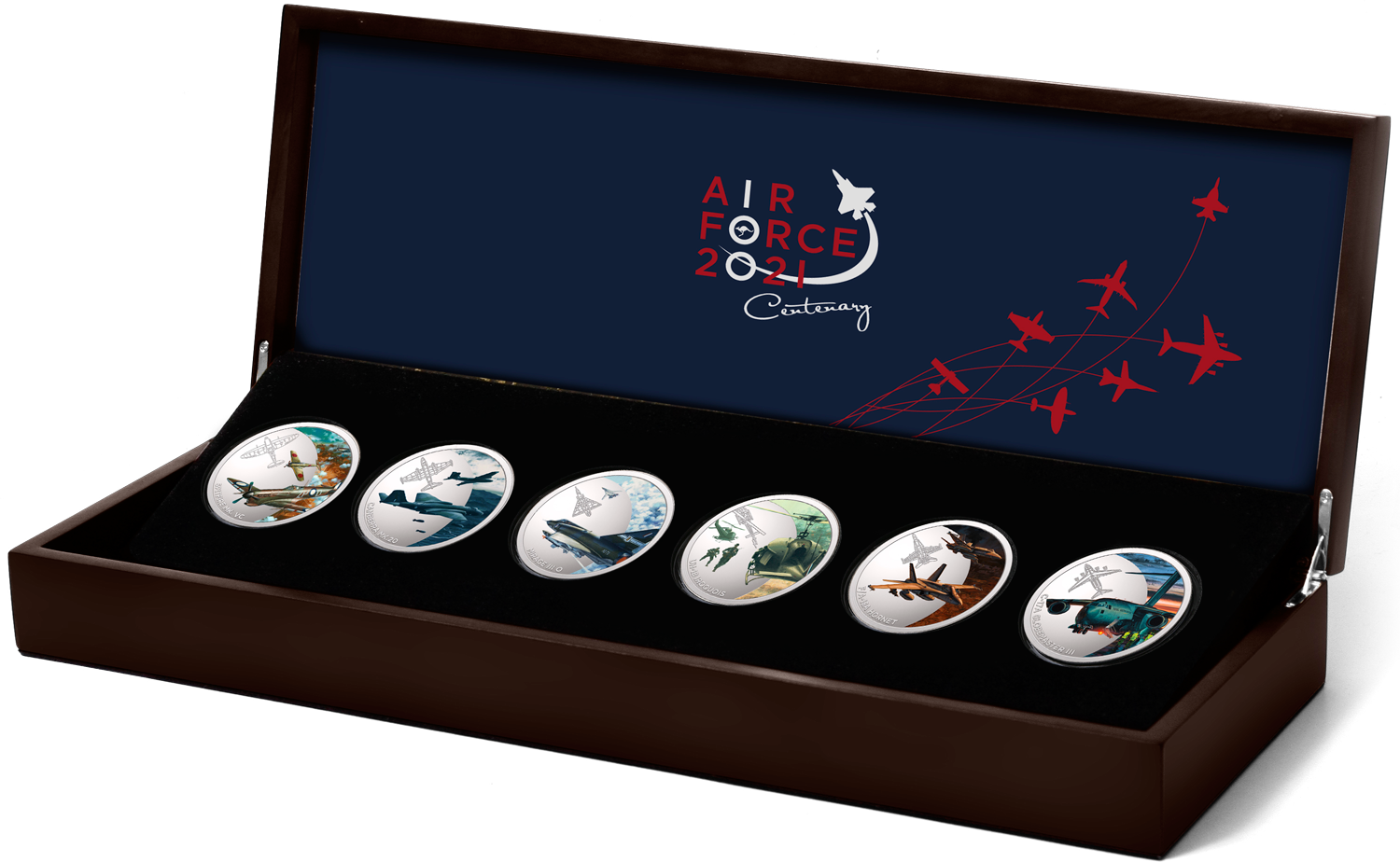 SPITFIRE MK. VC

CANBERRA MK.20

MIRAGE III O

UH-1B IROQUOIS

F/A-18A HORNET

C-17A GLOBEMASTER III

BACK

DISPLAY BOX
ORDER YOURS