The End of Service Collection | S-70A-9 Black Hawk.
☰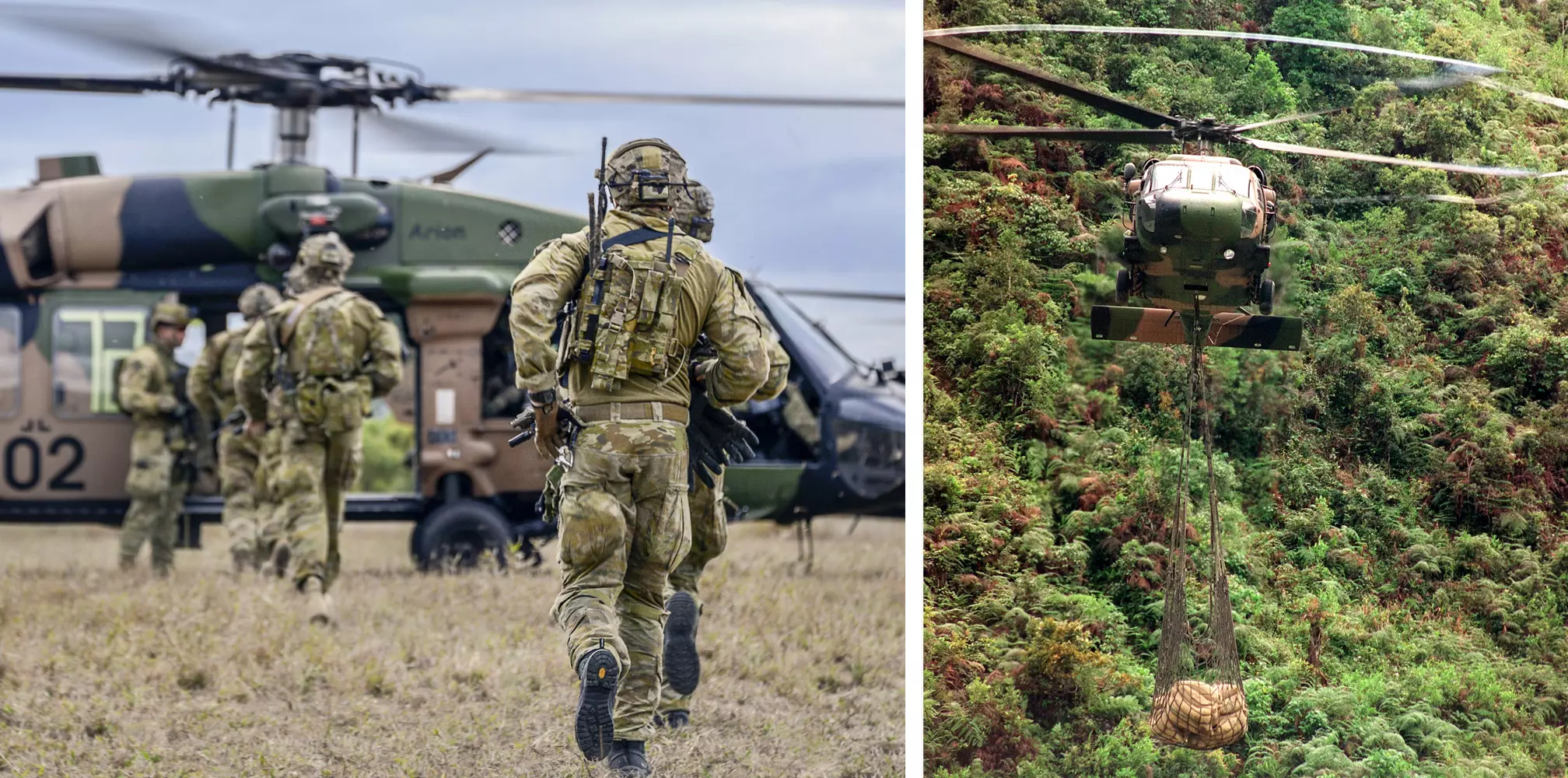 The End of Service Collection: The S-70A-9 Black Hawk.
The S-70A-9 Black Hawk has played a pivotal role within Australian Army Aviation (AAAvn) and the Royal Australian Air Force since its acceptance in 1987. The Black Hawk has fulfilled numerous military roles, including air assault, reconnaissance, and casualty evacuation. In the wider Australian community this sensational aircraft has played an important role assisting in disaster relief efforts and providing search and rescue capabilities. The Black Hawk has consistently served in these varied roles with distinction and provided unwavering support to those in need.
Celebrate one of the worlds most advanced battle helicopters as its service comes to an end with the AAAvn. Salute this much-loved aircraft today.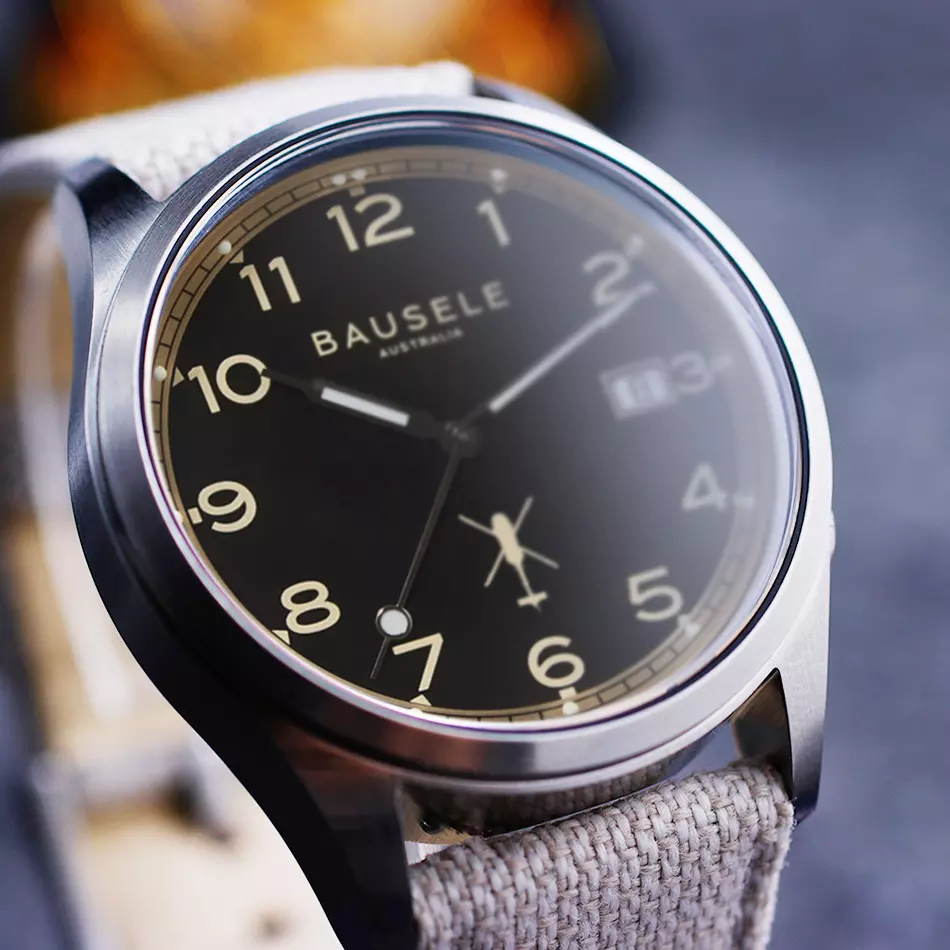 Black Hawk Limited Edition Watch
This product has been withdrawn from production as the minimum volume was not reached. This item is no longer available to order, and any previous orders will be refunded. We apologise for any disappointment.
A robust limited-edition watch, created in collaboration with Bausele, Australia. Created with unique features to celebrate the S-70A-9 Black Hawk, this limited-edition watch is the ultimate way to keep a piece of this legendary aircraft with you. This fantastic watch features a case made of surgical grade 316L stainless steel, a strategically placed crown at the 4 o'clock position, and a Japanese bi-directional self-winding mechanical movement. This watch comes with two straps for a versatile look. An outstanding timepiece to celebrate this extraordinary aircraft. Only 500 available.
Black Hawk Watch with Beige Band

Black Hawk Watch with Black Band

Black Hawk Watch Case Back

Black Hawk Sunset
The Black Hawk End of Service Artwork by acclaimed artist Drew Harrison.
Leading Australian aviation artist Drew Harrison was commissioned to create an artwork capturing the gritty S-70A-9 Black Hawk as it comes to its end of service with the Australian Army Aviation Corps. Drew has created the spectacular piece Black Hawk Sunset commemorating the Black Hawks in a deeply layered and intricate piece. This sensational artwork captures the might of the Black Hawk and its continued importance to 5th and 6th Aviation Regiments while paying homage to the AAAvn.
Find a spectacular range of limited-edition items featuring this beautiful artwork and celebrate this powerful aircraft.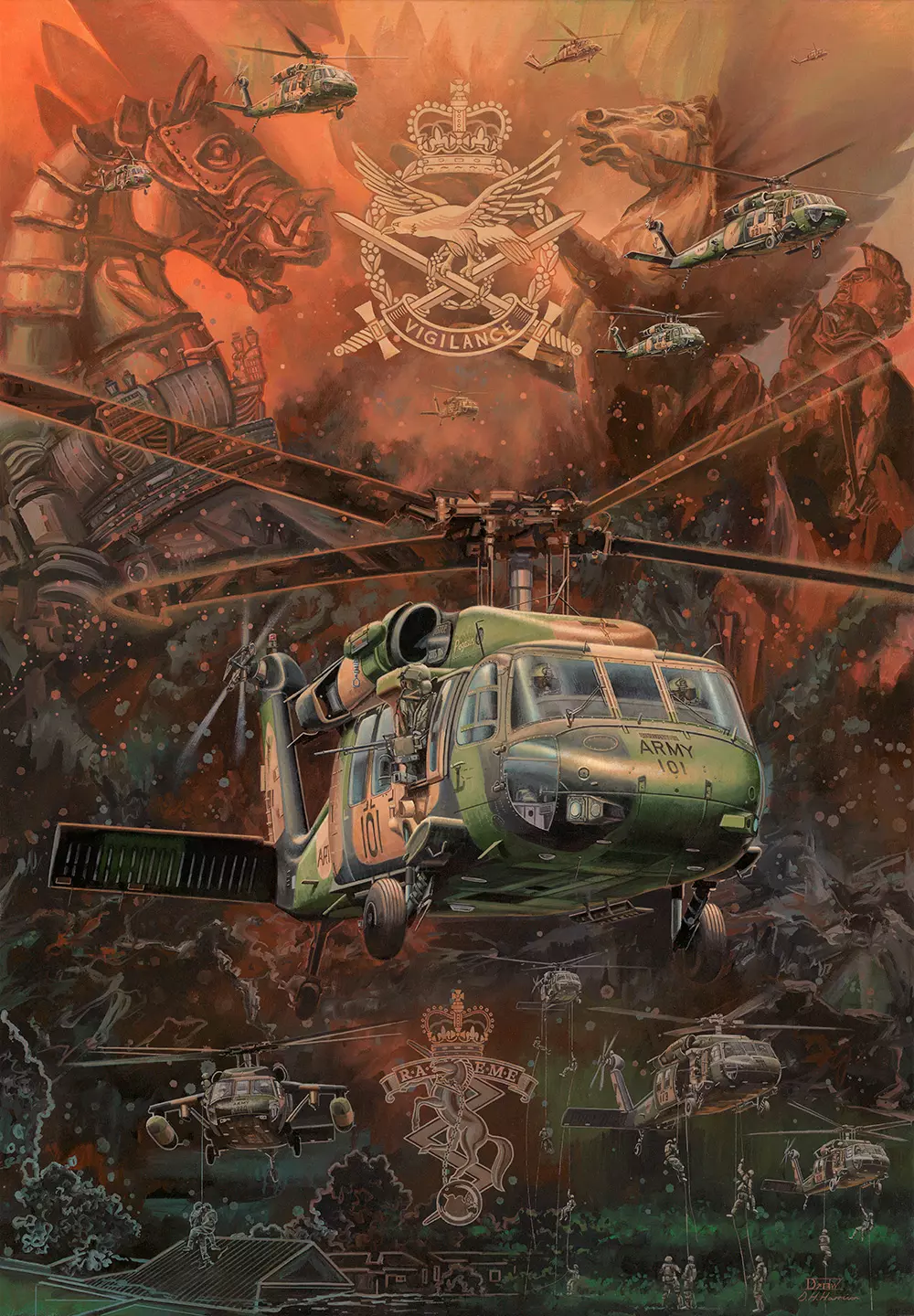 Limited Edition and highly detailed. The Black Hawk Set of Three Drink Coolers
Discover this fantastic collection of three limited-edition drink coolers featuring beautiful sections of Drew Harrison's sensational artwork Black Hawk Sunset. The perfect set for parties, barbeques, or camping, this spectacular set is made of high-quality neoprene, great for keeping drinks cold and conversation flowing.
With only 1000 sets available, make sure you secure the perfect drink coolers for any occasion and celebrate the service of this legendary aircraft.
ORDER
A perfect limited edition coffee mug set to add to your kitchen.
The complete set of three coffee mugs brings beautiful art to your day. Coming together to create the full artwork from Drew Harrison, this fantastic set is the perfect addition to your kitchen or office and lets you explore this intricate artwork from a new angle. A limited-edition set with only 1000 to be made, do not miss your chance to have this unique Drew Harrison artwork in your home now.
ORDER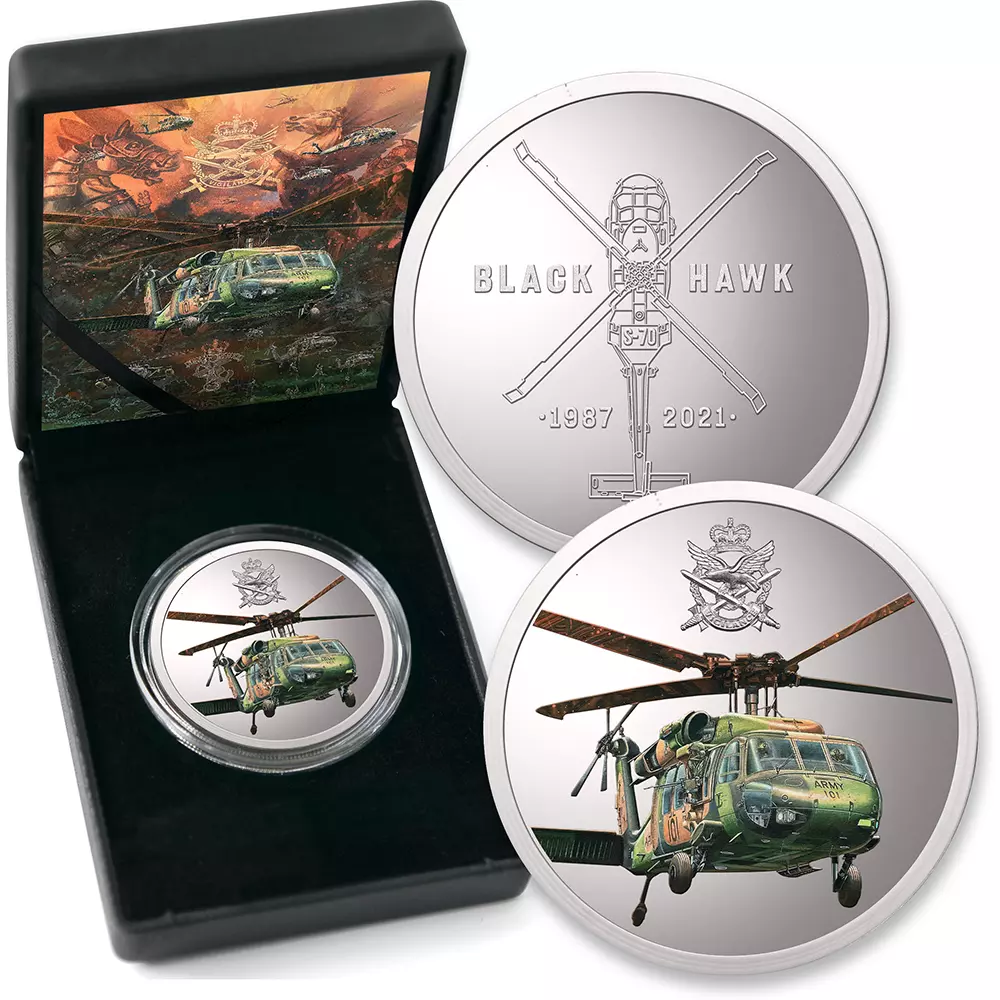 Incredibly limited and beautifully detailed.
A proof-quality medallion that brings the Black Hawk to you. Featuring the leading S-70A-9 Black Hawk from Drew Harrison's powerful artwork, this fantastic medallion is perfect for adding to your collection and commemorating this outstanding aircraft. With the Australian Army Aviation Corps badge featured on the front and a highly detailed schematic of the aircraft on the reverse, this medallion is not to be missed. Commemorate the end of service for this sensational aircraft and secure one of only 500 limited edition medallions now.
ORDER
A showpiece you do not want to miss.
Beautifully presented on 3mm solid aluminium, secure your copy of this bold artwork. The unique presentation of this piece adds a wonderful aircraft feel and creates a limited-edition artwork that is not to be missed.
Measuring 350 mm x 245mm this artwork is a stunning celebration of these much-loved aircraft. Only 250 will be created worldwide so do not miss your opportunity to secure one of these remarkable artworks.
ORDER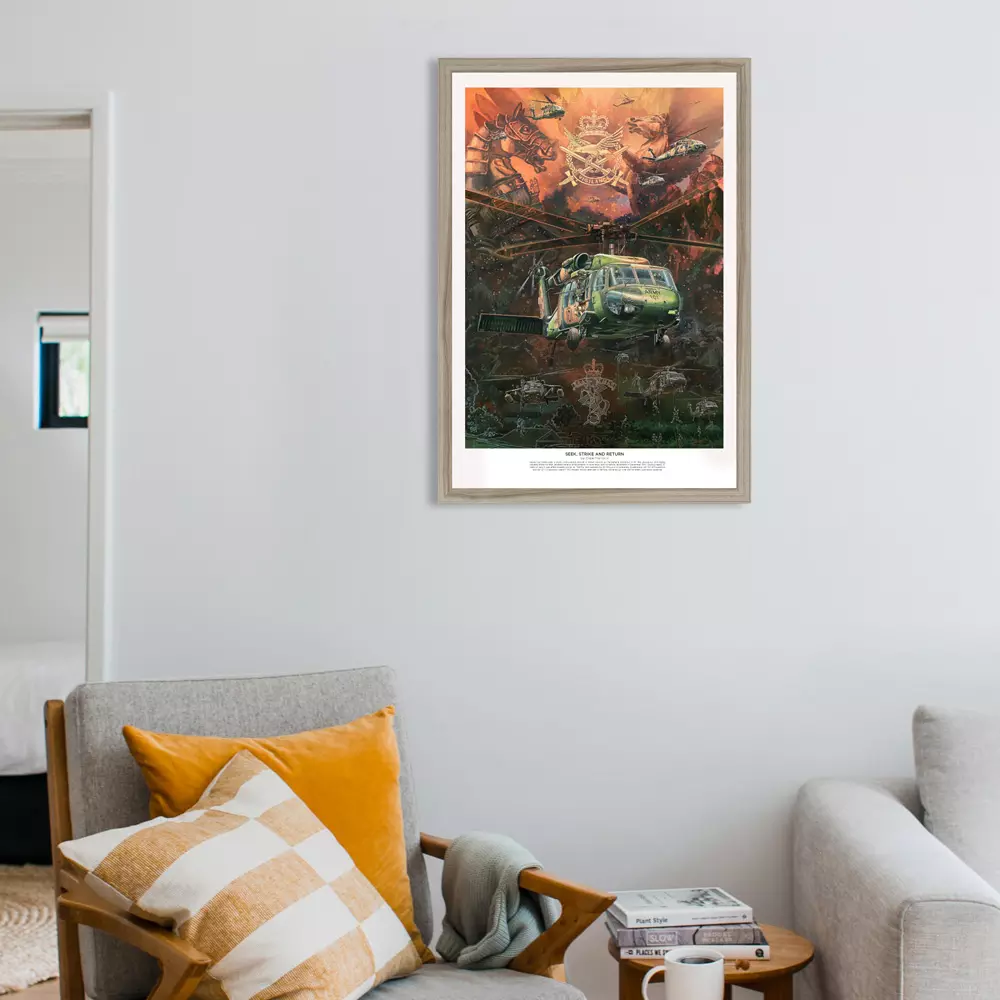 An End of Service artwork for you to cherish.
Own a museum-quality print of the vibrant artwork Black Hawk Sunset from Drew Harrison. Printed using archival inks on 310 gsm True Rag Etching Paper these prints meet the requirements for museum quality and are tested not to fade for over 75 years, helping to keep this beautiful artwork with you long after the S-70A-9 Black Hawks leave Australian skies.
Only 250 limited edition prints are available. Secure yours today.
ORDER
Made to last a lifetime.
Sensational reproductions of Drew Harrison's monumental end of service work Black Hawk Sunset. Display this beautiful artwork in your home, office, or mess with a superb reproduction that captures the artwork perfectly. Replicated using the latest scanning and printing methods and printed on Hahnemühle Daguerre Canvas with pigment inks, these canvas replicas are fade tested for up to 75 plus years.
The canvas edition print is available in two sizes to suit any space. The full size 1000m x 700mm canvas is limited to just 25 copies. The smaller, but just as impressive medium artwork at 700mm x 490mm is limited to only 100 prints.
ORDER MEDIUM
ORDER LARGE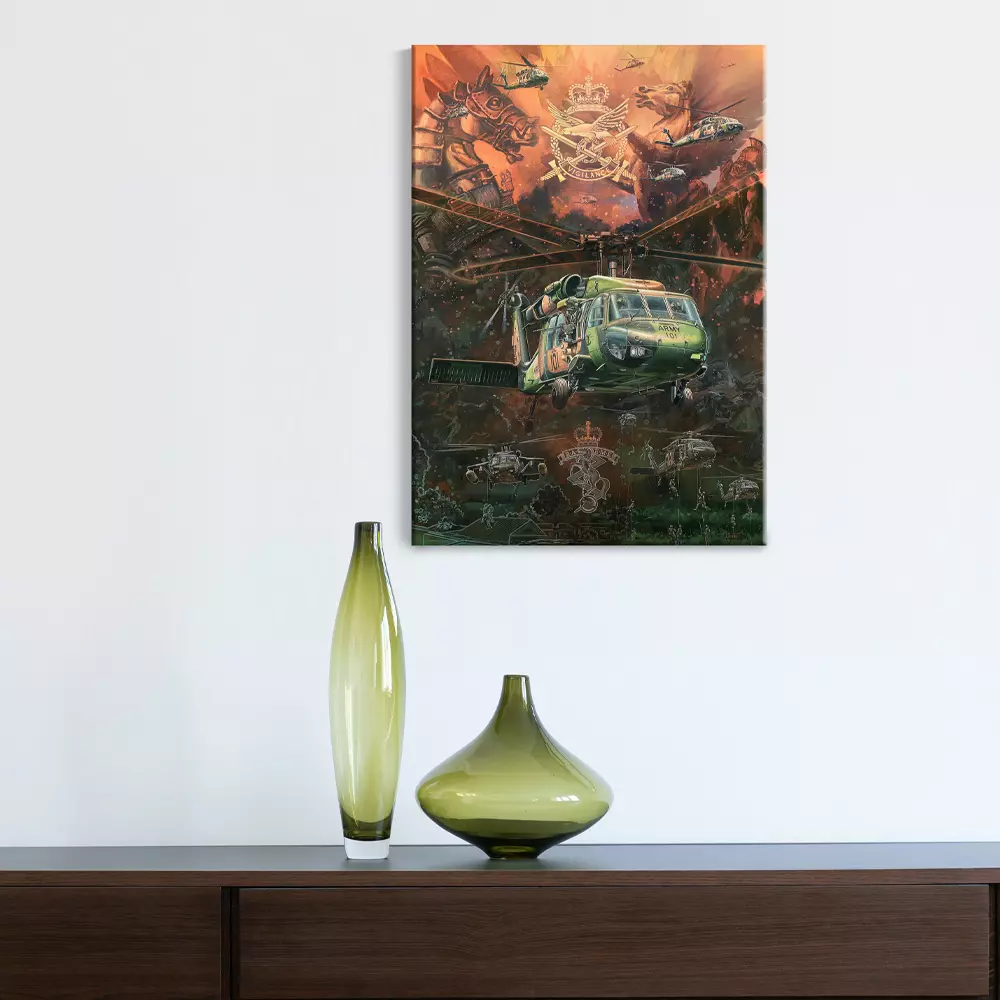 Discover our beautiful collections.